In my previous article, I had made a comparison of Amlogic S905X2 and Amlogic S905X3 before. Today, I would like to talk about Amlogic S905X2 vs S912.
When talking about them, the first impression may be one is four cores, while the other one is eight cores. Let's make a deeper comparison from the following aspects:


Source: https://hometheatrelife.com/amlogic-s905x2-vs-s912/
Amlogic S905X2 vs S912: Specifications
 

Amlogic S912

Amlogic S905X2

CPU

Octa-core 64-bit

ARM Cortex-A53 up to

1.5GHz

Quad-Core

Cortex-A53 up to

2.0GHz

GPU

ARM Mali-T820MP3

ARM Mali-G31MP2

Video Decoding

4K 60fps HW decoding, supports multiple formats including H.265/VP9 10-bit, H.264 and AVS+

AVS2-P2, VP9 and 10bit H265/H264 video decode, up to 4K 60fps

Support Dolby Vision, HDR 10, HLG HDR processing

H.264/AVC up to 4K 30fps

FHD 1080p 60fps HW encoding, supports H.265/H.264

H.264 MVC, MPEG-4 ASP up to 1080p 60fps

 

Supports HDR10, HLG HDR and Dolby Vision processing

Audio Processing

S/PDIF, I2S and PCM input and output

S/PDIF

Stereo analog output

Audio DAC

Digital stereo MIC input

8 channels I2S/PDM interface, supports 8 channels Mic array

Display

HDMI 2.0

, CVBS and RGB888 output

HDMI 2.1

for 4K@60Hz with HDCP 1.4/2, CVBS

Support conversion between Rec.2020 and Rec.709

Connectivity

TS stream input

TS stream input10/100/1000M MAC+10/100 PHY

10/100M MAC+PHY

 

Ultra HD/4K Output

Yes

Yes

HDR Video Playback

Yes

Yes

USB

USB 2.0

USB 3.0
It's interesting to see that despite the Amlogic S912 chipset boasting more cores thanks to its Octa-core 64-bit ARM Cortex-A53, the Amlogic S905X2's quad cores are
clocked faster at up to 2.0Ghz.
Whilst this means that the Amlogic S912 performs better in multi-core workloads such as multi-tasking, the faster single-core performance of the Amlogic S905X2 should
provide a slightly better experience when using Android apps, navigating the UI and other day-to-day tasks.
It's also important to call out that the Amlogic S905X2 is the first Amlogic processor to include support for high-speed USB 3.0 and HDMI 2.1, offering much faster transfer
speeds – perfect for playing high-resolution movies from your USB drive or hard drive.
Amlogic S905X2 vs S912: Gaming Performance
Gaming performance on the Amlogic S905X2 is surprisingly good, with the new Mali G31 GPU offering significant performance gains compared to the Mali-450 included on
the last generation Amlogic S905 family of processors.
As seen in the 3DMark Ice Storm benchmarks, the Amlogic S905X2's Mali G31 edges out the tri-core ARM Mali-T820 GPU in the Amlogic S912 by around 11%. However,
the 3DMark Slingshot benchmark (which relies on OpenGL ES 3.0) sees the Amlogic S912 pull ahead significantly, with a score nearly 80% higher than the S905X2.
How this translates into gameplay is far more subtle. As I've found in my Android TV box reviews, both Amlogic S912 and S905X2 Android TV boxes offer a solid gaming
experience with most games running smoothly at playable framerates.
However, newer titles which make use of the improved features included in OpenGL ES 3.0 will likely play far better on Amlogic S912 devices.
Given the improved support for newer gaming benchmarks, I have to say the Amlogic S912 has the edge for gamers.
Amlogic S905X2 vs S912: Video Playback
As the Amlogic S905X2 and Amlogic S912 targeting Android TV boxes, it's no surprise that video playback performance is excellent between both chipsets.
Both chipsets have the ability to decode Ultra HD 4K video content at up to 60 frames per second for H.265, VP9 and H.264 video codecs.
Additionally, full HD playback of VC-1, MPEG-1/2/4, and VP8 videos are also supported.
Both can also decode HDR when connected to compatible TVs for improved picture quality. Both HDR10 and HLG formats are supported.
Amlogic S905X2 vs S912: Benchmark Comparison
First of all, it's important to recognize that synthetic Android benchmark comparisons don't always translate to real-world performance differences but they're
an easy way to compare different Android TV boxes in a reasonably scientific way.
To test out the Amlogic S912 vs the Amlogic S905X2, I've run the following benchmarks on dozens of Android TV boxes:
Antutu:

Popular general benchmark that covers everything from GPU performance to general usage

GeekBench:

CPU benchmark that tests both single and multi-core performance

3DMark:

GPU-centric benchmark that focuses primarily on gaming performance
The below Android TV box benchmark comparisons cover popular benchmarks across a number of S905X2 and Amlogic S912 devices I've reviewed to see
how these two chipsets stack up, with average scores being used to account for TV box differences such as firmware.


As you can see in the benchmark gallery below, the cheaper Amlogic S905X2 surprisingly outperforms the octa-core Amlogic S912 in most benchmarks. generally
outperforms the Rockchip S905X2 with significant leads in both CPU and GPU benchmarks
However, the Amlogic S912's extra cores and GPU sees it pull ahead in Geekbench's multi-core and 3DMark's Slingshot benchmarks.
Amlogic S905X2 vs S912: Conclusion
The Amlogic S905X2 is an impressive SoC, offering excellent all-round performance in a budget package.
In terms of video playback, the Amlogic S905X2 and S912 are essentially equal, with excellent video playback support including both 4K and HDR videos. However,
the Amlogic S905X2's support for USB 3.0 and Dolby Vision makes it my top pick.
However, gamers will probably be happier with the Amlogic S912's GPU which offers better performance when using OpenGL ES 3.0.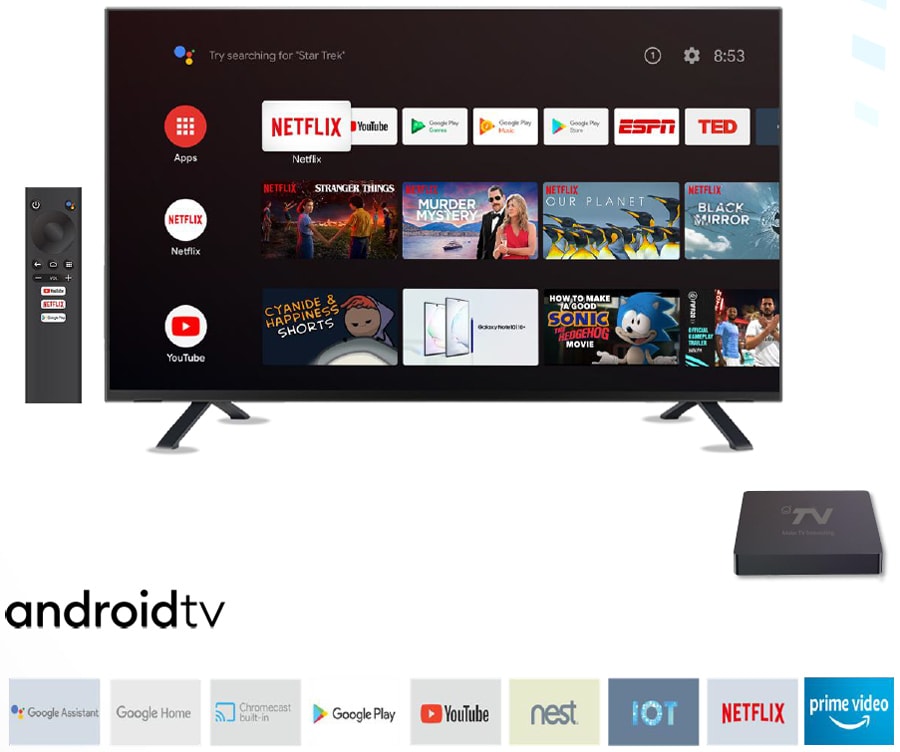 DV8551 is 4K HDR Android TV Streaming Box running on latest Android TV 9.0 os. The Android TV Set-top boxes solutions for OTT / IPTV providers, pay-TV, Telecom,
and mobile operators, etc. Support Android TV Operator Tier Launcher.

Amlogic S912 Android TV Box DV8419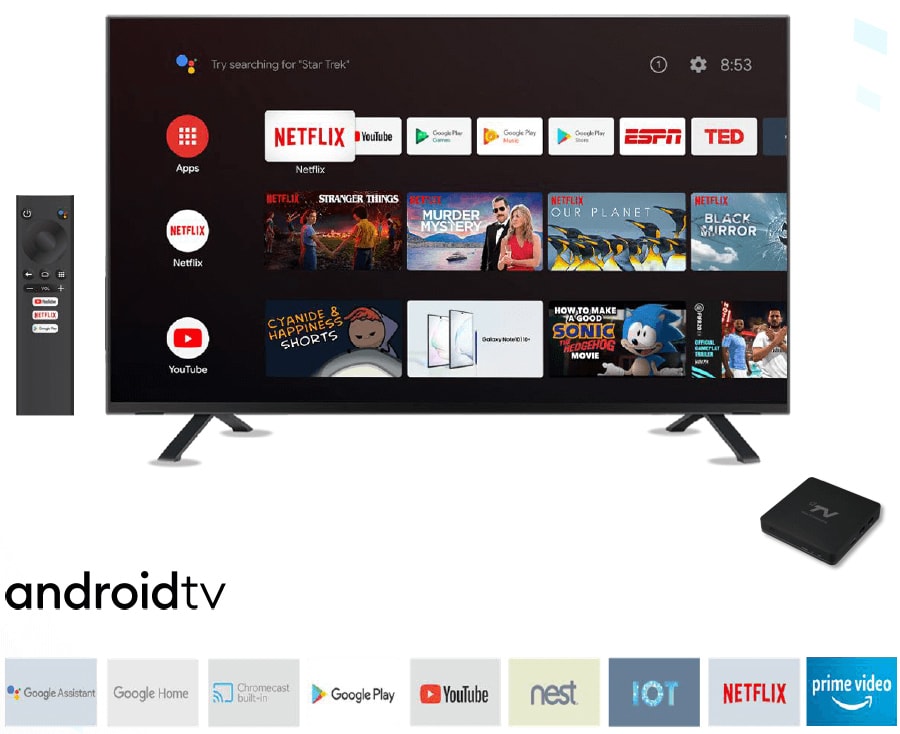 DV8419 is high performance, 4k HD Octa Core Android TV Box.It is designed for ISPs, OTT operators and content aggregators, wholesalers that
provide services based on IPTV, OTT and VoD.
They
have the common features as following:
Android TV STB transforms your TV into a smart TV

5000+ Android TV Apps on Google play including 1000+ streaming content providers

Popular Apps from Google play store including Netflix, Hulu and YouTube, etc

4K Ultra HD resolution for crisp, clear viewing

Voice search remote with Bluetooth 4.2 technology so you can easily find your favorite shows

Google Assistant quickly finds your favorite shows, answers questions, and can even control your home with the touch of a button
If you are interest in our products or need more information, welcome to contact us directly.