Amlogic has unveiled the latest processor-Amlogic S905X3 that is described as an advanced application processor designed for high-end 4K OTT/IPTV Boxes. So compared with the previous version--Amlogic S905X2, what is special about it?
Amlogic S905X2 vs S905X3: Specifications
Let's see the specifications of these two popular 4K Android TV box chipsets:
SOC

Amlogic S905X2

S905X3

CPU

4* Cortex-A53 2GHz
(18400 DMIPS)

4* Cortex-A55 2GHz
(21600DMIPS)

Neural Network Accelerator

NONE

Optional
1.2 TOPS NN
Supports all major deep
learning frameworks including
TensorFlow and Caffe

GPU

Mali-G31 mp2 , OpenGL ES 3.2 Vulkan 1.0 and OpenCL 2.0

Always-on MCU

Cortex-M3 & Cortex-M4

Cortex-M3 & Cortex-M4
(Optional )

DDR

DDR3-2133 /DDR3L-2133 /
DDR4-2666 /LPDDR3-2133 /LPDDR4-3200 SDRAM up to 4G

DDR3-2133 /DDR3L-2133 /
DDR4-3200 /LPDDR3-2133 /
LPDDR4-3200 SDRAM up to 4G

Video
Decoding

H.265, VP9 , AVS2 up to 4Kp75 10bit H.264 4Kp30

HDMI Tx

HDMI 2.1 HDCP2.2

HDR

HLG/HDR10/ 10+ Dolby vison,TCH PRIME

Process

12nm

Mic Input

8 x PDM

USB3.0/PCIE

USB3.0/PCI-E V2

Package

14mm*14mm BGA

Embedded Temperature Sensor

Yes








































Amlogic S905X2 vs S905X3: Performance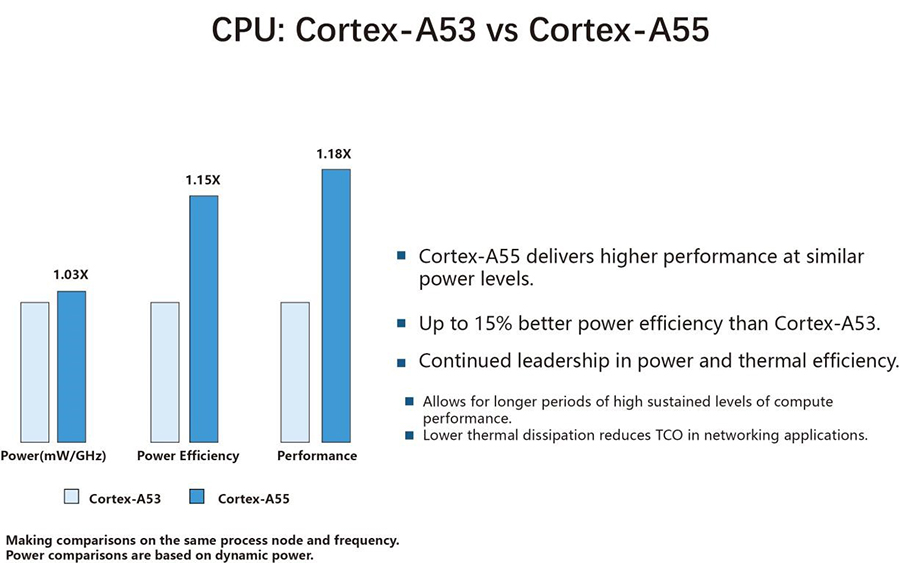 Amlogic S905X2 and S905X3 are somewhat similar to each other regarding overall performance. Both are capable of reaching up to 2GHz and the manufacturing process is only 12nm, but unlike Amlogic S905X2,
Amlogic S905X3 features four Arm Cortex-A55 cores. Cortex A55 has 15% to 20% performance improvement and simultaneously lower power consumption than Cortex A53.
This means that you'll see better performance on an Amlogic S05X3-powered 4K Android TV box, including the shorter loading time of application, smoother UI and more.
Amlogic S905X2 vs S905X3: Memory Storage
In terms of memory & storage interface, they are compatible with JEDEC standard DDR3-2133 / DDR3L-2133 /LPDDR3-2133 / LPDDR4-3200 SDRAM. The difference is that S905X3's memory interface has improved with the new SoCs supporting DDR4 up to 3200 MHz.
As we know, Amlogic S905X3 features Cortex-A55 cores as well to deliver up to twice the performance compared to Cortex-A53 in memory benchmarks.
Amlogic S905X2 vs S905X3
: Video Playback
In the video playback section, Amlogic S905X2 and S905X3 support full 4K decoding. Exactly, equipped with an up-to-date HDMI 2.1 interface, both of them can decode Ultra HD 4K video content at up to 75 frames per second for H.265, AVS2, and VP9, providing a fast way to send video and audio output.
Additionally, Amlogic S905X3 also adds an AI processor that is used for voice recognition in TV Boxes.
Overall, there hasn't a big difference between S905X2 and S905X3 except for the last one with cortex-A55 CPU and AI processor. Therefore, the cost of S905X3 will be higher than S905X2.

Related Product Recommendation

DV8819 Amlogic S905X3 4K Android TV OTT Box with AI Processor >>>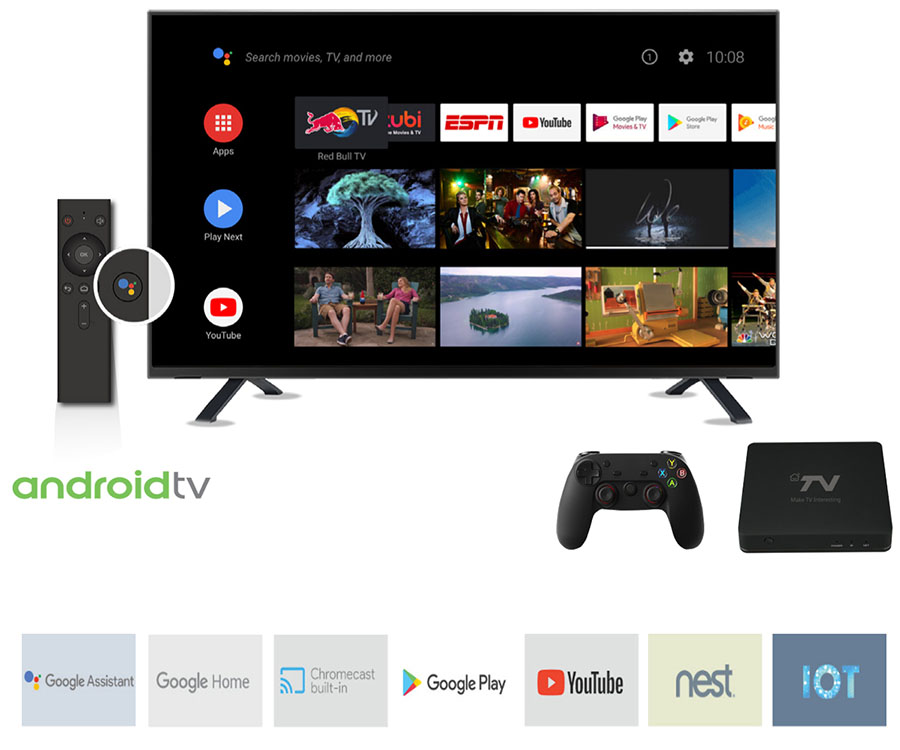 As the Amlogic S905X3 has just been released, there aren't too many S905X3 Android TV boxes on the market.DV8819 is one of the few Amlogic S905X3 TV Boxes, adopting the updated Android TV 9.0 operating system to provide you a smooth and fast running speed. With multiple storage combination schemes up to 64 GB, DV8819 offers enough storage for your apps and others. And that is also fully guaranteed for a smooth viewing experience of your media files as well as some cool gaming sessions.
The included voice remote with built-in Google Assistant helps you quickly find the latest blockbuster, check the score of the cool game or dim the lights-all without leaving what you are watching.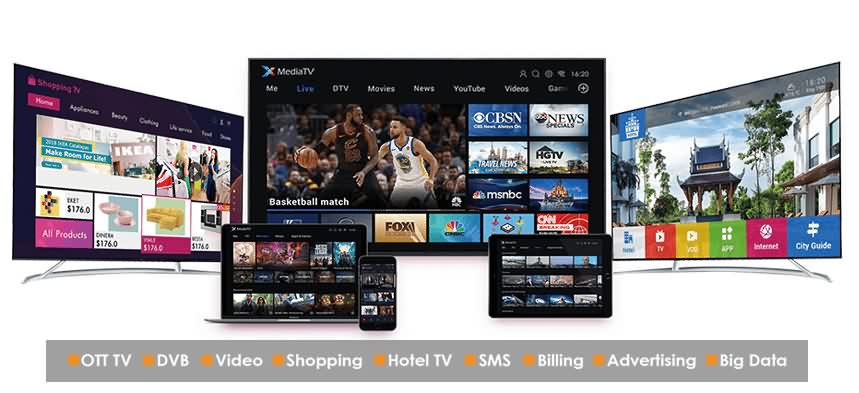 Moreover, we can support Android TV operator Tier launcher which improves the users UI / UX experience. The self-developed XMediaTV and Android TV are perfectly combined to subscribe to the massive video content of Android TV, and also help operators to build video content that meets local needs.