Although Amlogic has released the successor to the immensely popular Amlogic S905X2 --- the Amlogic S905X3, the former is still sought-after for its high-cost performance.

If you're looking for a cost-saving and high-performance solution for your OTT business, Amlogic S905X2 4k Android TV Box would be a good choice. Let's first see the specifications of Amlogic S905X2:
Amlogic S905X2 4K Android TV Box: Chipset Specifications
SOC

Amlogic S905X2

CPU

4* Cortex-A53 2GHz (18400 DMIPS)

GPU

Mali-G31 mp2 , OpenGL ES 3.2 Vulkan 1.0 and OpenCL 2.0

Always-on MCU

Cortex-M3 & Cortex-M4

DDR

DDR3-2133 /DDR3L-2133 /DDR4-2666 /LPDDR3-2133 /LPDDR4-3200 SDRAM up to 4G

Video
Decoding

H.265, VP9, AVS2 up to 4Kp75 10bit H.264 4Kp30

HDMI Tx

HDMI 2.1 HDCP2.2

HDR

HLG/HDR10/ 10+ Dolby vison,TCH PRIME

Process

12nm

Mic Input

8 x PDM

USB3.0/PCIE

USB3.0/PCI-E V2

Package

14mm*14mm BGA

Embedded Temperature Sensor

Yes
Amlogic S905X VS. Amlogic S905X2: Amlogic S905X2 delivers greater performance than S905X.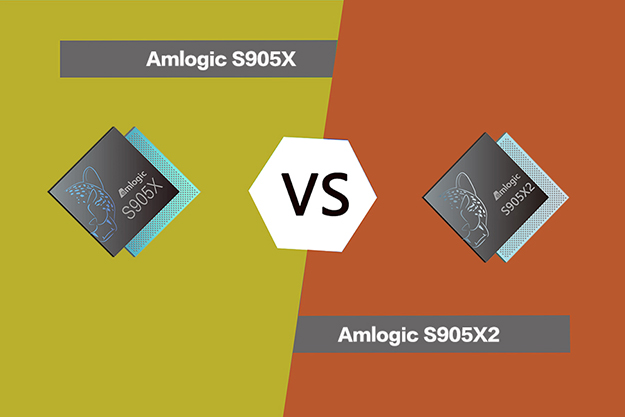 Compared with its previous version---Amlogic S905X, Amlogic S905X2 has USB 3.0 while S905X has USB 2.0 only. Also, Amlogic S905X2 is the first Amlogic processor to include support for high-speed USB 3.0, offering faster transfer speed – perfect for playing high-resolution movies from your USB drive or hard drive.

And Amlogic S905X2's manufacturing process is only 12nm, a significant improvement from the previous 28nm, plus unique chip temperature detection and DVFS intelligent dynamic voltage regulation, reducing power consumption and chip surface temperature while ensuring excellent performance. Additionally, the Mali-G31 GPU is closed at up to 850 MHz, against 750 MHz with the Mali-450 GPU in S905X.

Although there are many other differences, we don't need to list them here.

You can also get more information at this link
https://en.sdmctech.com/news/product-news_1862.html
In general, Amlogic S905X2 takes more advantages over S905X.
Amlogic S905X2 VS. Amlogic S905X3: They are somewhat similar to each other regarding overall performance.


There is an undeniable fact that Amlogic S905X3 is indeed a little better than Amlogic S905X2. After all, the Amlogic S905X3 is the successor of the Amlogic S905X2. The biggest difference, in my opinion, is that S905X3 adds an AI processor that is used for voice recognition in TV Boxes. As for CPU, the updated Cortex-A55 core would bring some performance improvements, but actual Amlogic S905X3 benchmarks show the performance compared to Amlogic S905X2 Arm Cortex-A53 is almost identical (3% improvement for S905X3 CPU, 9% for the GPU).
For more information about S905X2 vs S905X3, welcome to visit https://en.sdmctech.com/news/industry-knowledge_1883.html
In conclusion, Amlogic S905X2 Android TV Box delivers, for the moment, a comparatively cost-effective solution to operators and customers.
Amlogic S905X2 4K Android TV Devices
Recommend
ation
: OTT Box, Hybrid Box, and Smart Speaker
Amlogic S905X2-powered Android TV Devices are not limited to Amlogic S905X2 4K Android TV OTT Box, but also include Amlogic S905X2 4K Android TV OTT/IPTV + DVB Hybrid Box and Amlogic S905X2 4K Android TV Smart Speaker.
DV8535 Amlogic S905X2 4K Android TV OTT Box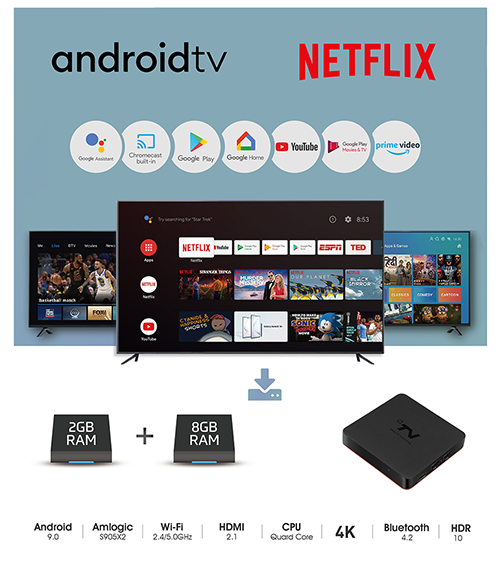 Features:
- Supports Android TV 9.0 or above.
- Accesses 3rd party service from Google Assistant.
- Accesses endless original content from 5,000+ channels and Apps including Netflix, YouTube, Prime Video and more.
- Cast movies & TV shows, music, games, and other content you love from your phone, tablet, or laptop to your TV.
DV8529-T2+S2 Amlogic S905X2 4K Android TV Hybrid Box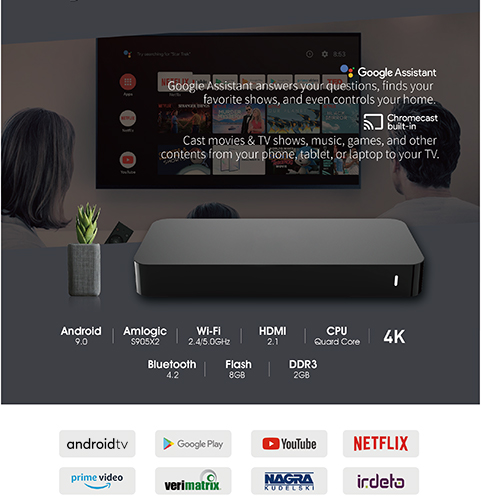 Powered by Amlogic S905X2 chipset, DV8529-T2+S2 is a 4K Android TV-based hybrid set-top-box with dual digital TV tuners for delivering a seamless user experience that blends live and OTT services. With the DV8529-T2+S2 STB, operators can provide premium digital video broadcast and streaming media contents in 4K Ultra-HD resolution, enabling operators to rapidly adapt to market forces and maintain a competitive advantage.
Besides, DV8529 provides tuner options for operators to support a wide range of broadcast standards, including DVB-S2/T2/C, ATSC, and ISDB-T.
DV8542 Amlogic S905X2 4K Android TV Smart Speaker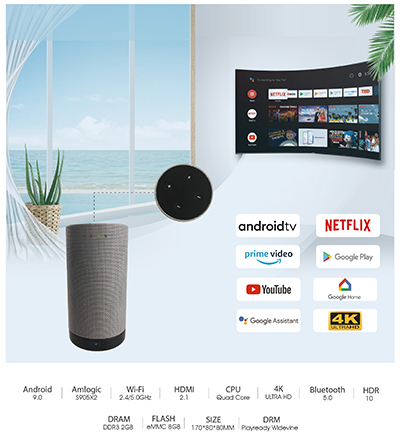 DV8542 is a hands-free streaming media player, enabling operators to deliver the most engaging user experience to the end-user by being more personalized, further enhancing assistant services with voice search and enriched Smart Home functionality.
Two Key Features
- With built-in Zigbee gateway(Optional), users can control a wide range of smart home devices through far-field voice, such as dimming the lights.
- With far-field voice recognition and built-in two linear microphone array, this 4K Android TV Smart Speaker hears users from a great distance of up to 5 meters.