China will command half of the OTT revenues for the 22 countries covered in the Asia Pacific OTT TV & Video Forecasts report by 2022; rising from just over a third of the 2016 total. China and Japan together will account for two-thirds of the region's total revenues by 2022.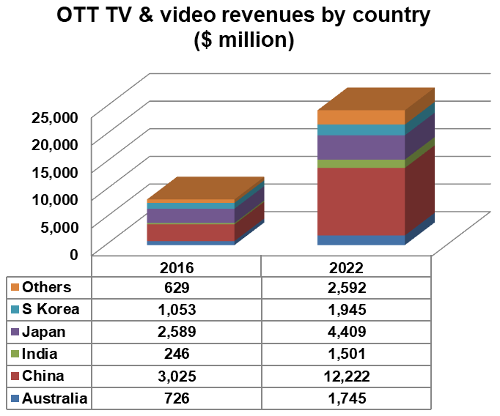 Advertising revenues on OTT sites and SVOD revenues are running neck-to-neck. SVOD will be the leader in 2017 and 2018, but AVOD will regain the crown from 2019. China will supply 61% of the region's AVOD revenues by 2022 – or $7.27 billion.
Asia Pacific SVOD revenues will climb from $3,388 million in 2016 to $9,090 million in 2022. China will overtake Japan to become the SVOD revenue leader in 2017.
Digital TV Research forecasts 234 million SVOD subs by 2022, up from 91 million in 2016. China will have 139 million SVOD subs (59% of the region's total) in 2022. India and Japan will together account for another 50 million, leaving only 44 million divided between the remaining 19 countries.
A quarter of the region's TV households will subscribe to an SVOD package by 2022, up from just over a tenth at end-2016.

Source: Digital TV Research


Recommended OTT TV Products