Android TV devices and Amazon Fire TV streaming devices are two of the most popular options for people who want to start streaming without having to replace their TV. As customers, it is always important for us to know about the differences between them. Which platform is right fit for you? In this article, we would like to discuss several aspects including hardware, software, user interface, Kodi, and gaming support.
Hardware
Since more and more companies joined the Android TV ecosystem, the price and hardware of Android TV devices vary dramatically. You can pick any one of them based on your budget.
For example, The economic one - Walmart Onn FHD Streaming Stick only costs $24.88, is powered by an Amlogic S805Y quad-core CPU running at 1.4GHz, Mali-450 MP GPU, and comes with 1GB of RAM.
The Google TV dongle comes with 2 GB of RAM and 8 GB of storage. It has a brand new UI and a 1.9GHz processor. You can buy it for $49.99.
Similarly, Mi Box S ($59.99) which is an Android TV Box offers 2GB of RAM, 8GB of internal storage, and a decent A53-based processor.
NVIDIA Shield TV comes at a price range from $129 to $179. It has a Tegra X1+ processor and a 256-core GPU.


When it talks about Fire TV streaming devices, Fire TV Cube, Fire TV Stick 4K, Fire TV Stick, and Fire TV Stick Lite come for $119.99, $49.99, $39.99, and $29.99 respectively. Most of the Amazon Fire TV streaming devices feature a quad-core 1.7GHz processor, 8GB of storage, and 1GB of RAM, except for Cube that has 16GB storage, 2GB RAM, and a Hexa-core processor. The 4K variant also has an increased RAM of 1.5GB.
Basically, on the Android TV side, you have multiple choices both in terms of pricing, brand and hardware.

Software
With Android TV OS, you can access 700,000+ movies and shows from popular Apps on the Google play store and the apps are optimized for the larger screen. These mainstream apps include Netflix, Prime Video, YouTube, HBO Max, Disney+, etc. Apart from that, another highlight feature of Android TV is Google Assistant integration. You can use it to give a voice command and perform the actions. It's no secret that Google Assistant is better than Amazon's Alexa or any other voice assistants in the market.These Android TV also have a Chromecast feature which is not present in Fire TV Sticks.
These Amazon Fire TVs have their own Fire OS which comes with their own streaming apps like Prime Video, YouTube, Netflix, HBO Max and more. It does not have an app library as huge as Play Store. One area in which this TV beats the Android version is that former ones have support for the Apple TV app which is absent in Amazon Fire TV. Yet, they lag behind as they don't have a Chromecast's one-tap action feature. They support Miracast (wireless display) which is a WiFi standard but some devices have the support and some don't. The quality of screen mirroring is not great either. So in terms of smartphone casting, Android TV clearly has an upper hand against Amazon Fire TV Stick.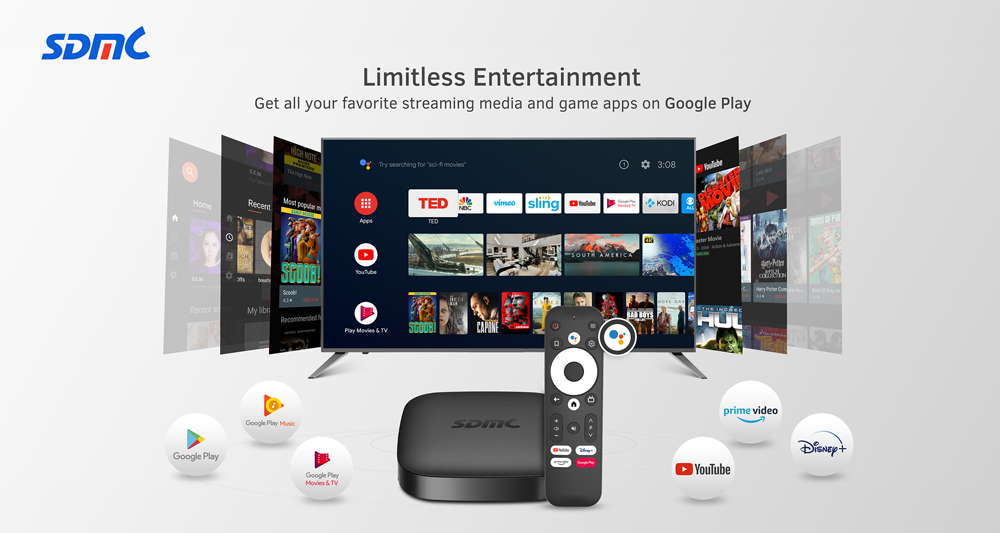 User Interface
The UI of Android TV offers you more options than Amazon TV. You can personalize the discoverability of content, move apps front & behind, customize the "Play Next" row, and much more. Android TV, which is transformed into the all-new Google TV, gives you a more comfortable experience and has a polished UI.
The UI of Amazon Fire TV is not that bad at all but most of the space is given to Amazon Prime which shows forcing customers to watch Amazon's streaming app.
It is obvious to promote your own service but forcing that on the customers is not a good marketing strategy. This can irritate customers, potentially losing them out as well. One more issue with Amazon Fire TV is that it has a very colorful and vibrant homepage. Sometimes, this can cause irritation to the eyes of the viewers.


Gaming
Both the TVs are not great for the purpose of gaming, but cloud gaming can be an answer to this problem for Android TV. The followers of this TV can use Google Stadia to play games on TV. Android TV can be used to play some light games like Crossy Road. Gaming options in Amazon Fire TV are more limited. Only games like SNES and Badland can be played.The arrival of GeForce Now gives you more options to play games. Both GeForce Now and Google Stadia help the users to play intensive games.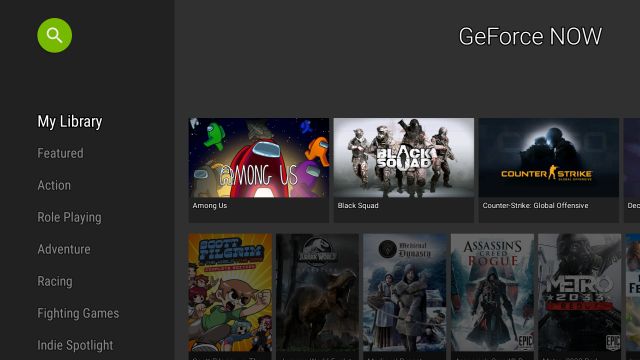 Kodi
Many people use Kodi for their video-watching needs. The home theater app is one of the best ways to watch movies in your local library and access (legal!) online content from your favorite TV networks and streaming providers. When it comes to running Kodi and other streaming apps, the Android TV device is fast and smooth. Kodi is available as a native Android TV app through the Google Play Store. The app isn't available natively on Amazon's products. If you want to install Kodi on Amazon Fire TV, you will need to use a fiddly workaround.
The big advantage of a native Kodi app is the update process. If you install Kodi through an official store, it will automatically update itself. If you install it manually using an APK file, you will need to redownload a new APK file for every update---it's a time-consuming process.
Conclusion
It's clear that Android TV streaming devices and Amazon Fire TV streaming devices are similar in many ways. The only significant difference is in the software department where one prioritizes Google services and the other utilizes Amazon's services. Both systems support free streaming, on-demand streaming, live TV, as well as gaming apps. Apart from that, a higher collection of apps, seamless casting feature, and impeccable voice assistant contributes to the success of Android TV. In almost every aspect, as discussed above, Android TV has a slight edge over the Amazon Fire TV.