The DV6063 is SDMC's newest quad core TV stick. It is a mini device that you can plug into the HDMI port of your digital TV to stream internet video, play games and so on. It support dual Wi-Fi and it is ideal for wall-mounted TV.
Different to SDMC's quad core Android TV box, this quad core TV stick doesn't support external storage device to plug in, which means if you'd better try quad core TV box if you need extend the flash.
The Look
For the first time, SDMC launched a new product with 6 colors and two shell materials. Both plastic and metal are available for this quad core TV stick. The overall size of this quad core Android TV stick is 82mm*31mm*10mm. As to the connections, there is an HDMI port, a micro USB port for power and a LED power light.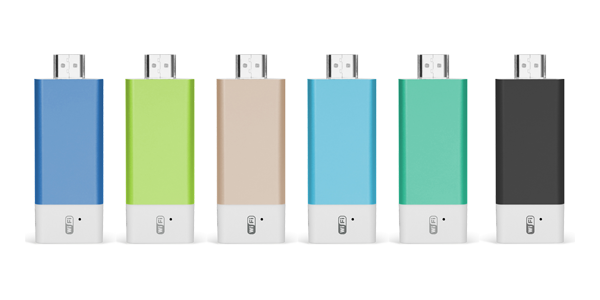 The specs
The new quad core TV stick features an Amlogic S805 processor. SDMC does use Amlogic S805 processors for some of its most recent quad core devices: the quad core android TV box DV7905, quad core android DVB-T2 TV box DV7904-T2, quad core android DVB-S2 TV box DV7904-S2 and so on.
OK, let's see what can we expect from this SDMC new quad core Android TV stick?
Amlogic S805 1.5 GHz quad-core ARM Quad Cortex-A5 processorQuad-core Mali-450 graphics processor
1GB of DDR3
4GB of storage (8GB, 16GB, and 32GB are also available)
Android 4.4 - based operating system
Dual Wi-Fi - 2.4GHz/5GHz 802.11 a/b/g/n
H.255/HEVC hardware decoding
That means the new quad core TV stick would have more memory than the last HDMI TV stick version (which has 512 MB DDR3).
The DV6063 is based on Android 4.4, but SDMC recently working on Android 5.0. We can expect the Android 5.0 version before IBC2015.