When referring to the available kinds of Android TV devices on the market, let's briefly introduce what's Android TV first so that the new readers have a better understanding. Android TV is version of Google's Android operating system for big screen. Comes with an Android TV device, users can stream their favorite apps including Netflix, Prime Video, Disney Plus, YouTube, and more downloading via Google Play, get Google Assistant for hands-free help, and cast from mobile device to large screen with Chromecast built-in. There are a few devices running on Android TV to choose from, with these being different features in addition to the above functions. Today we would like to introduce six current kinds of Android TV devices, hope it's helpful for you.
Android TV OTT / IPTV STB
Android TV OTT/ IPTV STB is an internet TV Box powered by a certified Android TV platform and fully integrated with a powerful CPU/GPU system, Google TV Service, user interface, as well as major DRM services. The unique feature lies in the simplified integration process that enables operators to quickly deploy Android TV solutions, provide subscribers with plenty of content, and enrich their TV experiences with ease.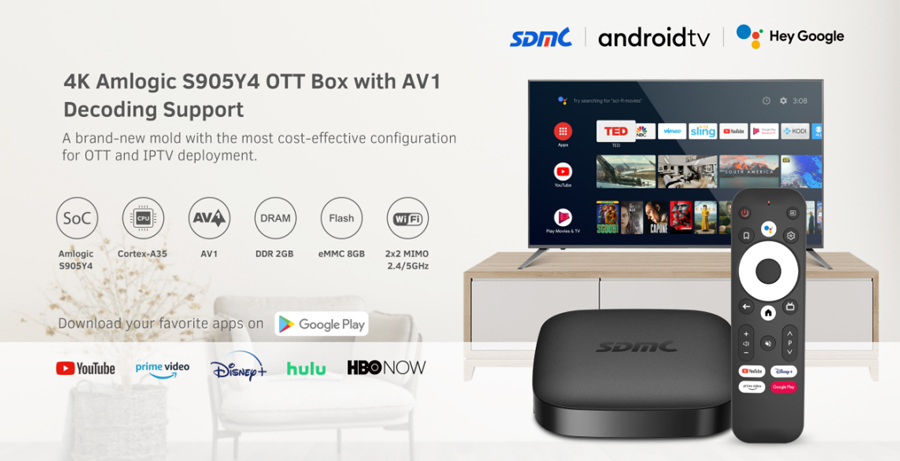 Android TV OTT + DVB STB is an Android TV-based hybrid set-top-box with a digital TV tuner (DVB-C/T/T2/S/S2) that supports popular OTT apps and digital content simultaneously. Operators can seamlessly integrate their linear channels with OTT services, thus delivering all content types including Live TV, Catch-up, SVOD, TVOD, and streaming services of partners on the box to address growing consumer demand for diverse content experiences while keeping the subscriber-base satisfied.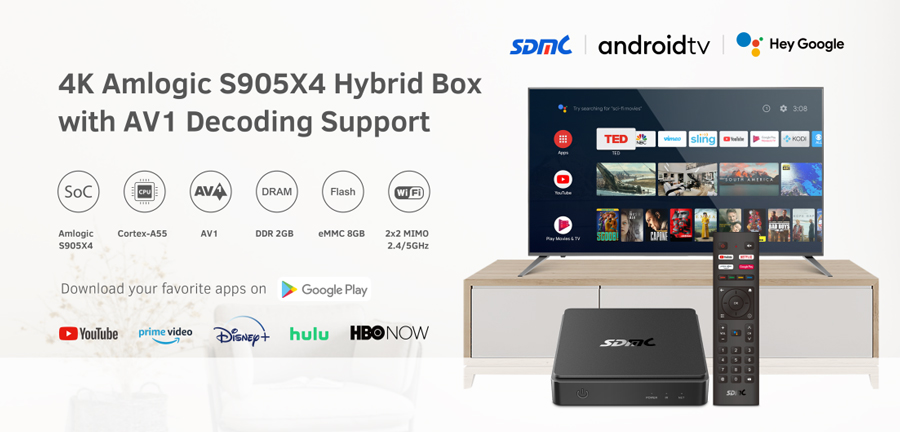 SDMC adopts Google's Common Broadcast Stack and leverages it to help operators easily and quickly complete Android TV hybrid STB integration for accelerated time-to-market, simplified upgrades as well as reduced overall TCO (total cost of ownership).
Android TV Stick and Android TV Dongle are portable devices converting a traditional TV into a smart TV only by plugging into an HDMI port while tucking neatly behind their TVs. The main difference is that Android TV Stick is shaped like a USB flash drive, but Android TV Dongle features in all shapes and equips with an HDMI cable and additionally it is generally bigger than Android TV Stick.

They are both suitable for households who don't wish to upgrade their older TV sets but stream all of their favorite shows. After all, the price of a smart TV far exceeds a TV stick or dongle. Plus, the mini size and compact design allow it to be taken on the road with users when they travel or even just go to a friend's house.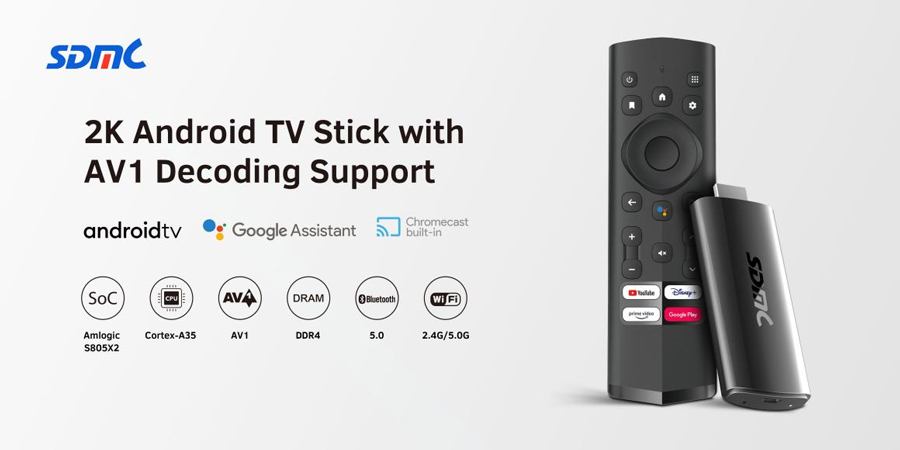 Android TV Smart Speaker is a voice-activated device, powered by Google Assistant, offering interactive actions and hands-free activation with the help of "Hey Google / OK, Google."
Not only can it act as an audio player to access rich services from Google Play, but also operates as a home automation hub to perform a variety of tasks based on voice commands including answering questions, setting timers, as well as controlling any other smart home devices.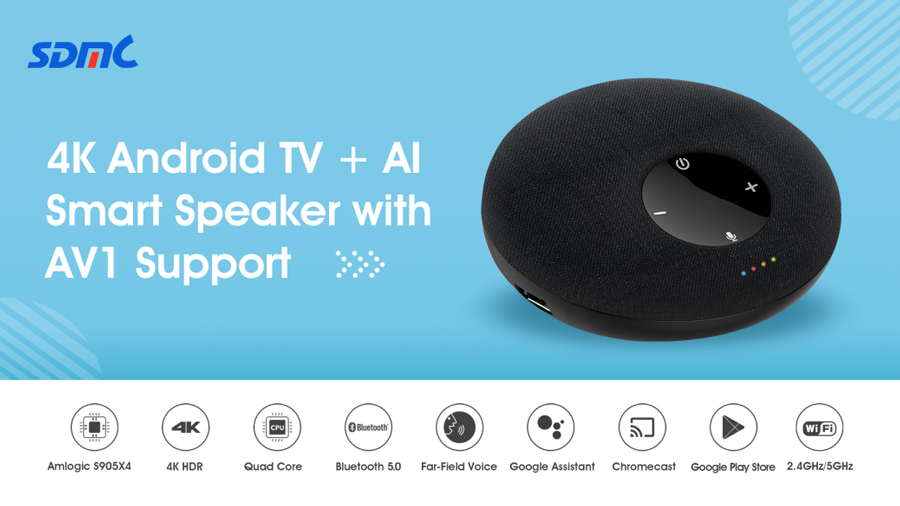 The global smart speaker market size is projected to grow from $9.04 billion in 2021 to $34.24 billion in 2028 at a CAGR of 21.0% between 2021 and 2028 following Fortune Business Insights. It's not just the smart speaker market that's on the verge of breaking out, but also the sign that the smart home may begin to materialize. Therefore, many operators tend to deploy Android TV Smart Speaker as a gateway to enable smart home and deliver the most engaging user experience while seizing a new revenue-generating opportunity.

Android TV Smart Projector
At present, the most convenient way for smart projectors to realize the features of Android TV is equipped with an Android TV certified dongle/stick. Except for itself system, users can switch to Android TV UI directly. Whenever and wherever you want, Android TV Smart Projector brings you favorite TV shows, movies, amazing games, and popular music from the Google play store to the big screen, creating theater experiences at home.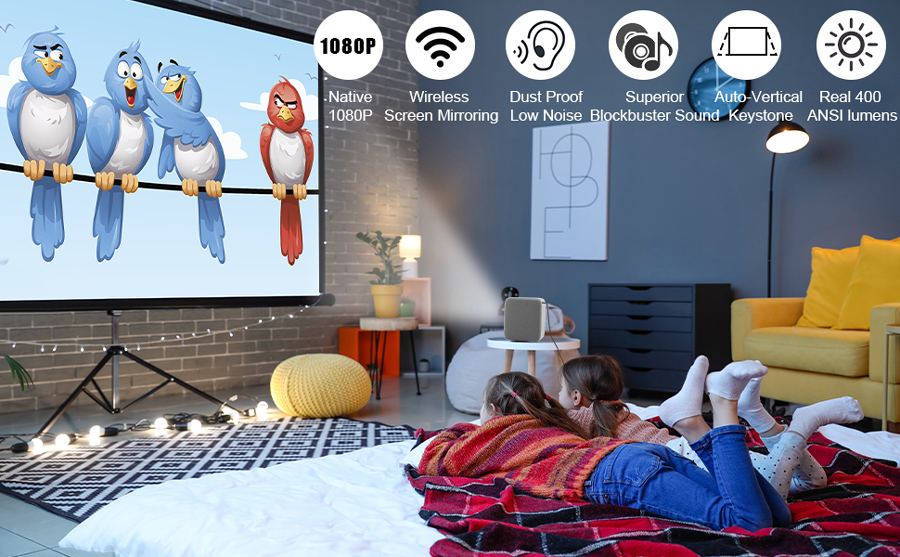 Simply put, Android Smart TV is a TV that runs on Google-certified Android TV operating system. Once an Android Smart TV connects to internet and turns on, users will directly get access to a variety of apps and services without the need to use additional device such as streaming box. A smart TV is, however, much more expensive than a streaming box and most households tend to buy a streaming box instead of upgrading their TVs.

We have a strong partnership with Google and have rich experience on Android TV projects worldwide which gives us an edge over other OEM partners in terms of TIMELINE and QUALITY of products. Additionally, we have the in-house capability of offering a Terminal Management System which operates on TR69 and can be used to manage the deployed STBs.
Welcome to contact our experienced team at info@sdmctech.com to discuss how we can help you quickly deploy your Android TV solution, increase your user engagement, and improve your APRU.