As the mainstream products on the digital TV market, Apple TV and Android TV always become the focus of topic discussion. You may have seen a lot of comparison between them from OS to features, which can give end-users guidance to choose. Today, however, I would like to expand this topic in the commercial aspect. Which one is suitable for expanding your business? Hope it will be helpful to you.

Android TV vs Apple TV: Android TV OS is open to all companies
What is Android TV?
Android TV is the Google-developed version of Android, specially designed for TV's and stand-alone digital media players such as set-top boxes and related streaming devices. Since Android TV is an open ecosystem, the certified smart tvs, STBs partners and operators can provide products running on Android TV os.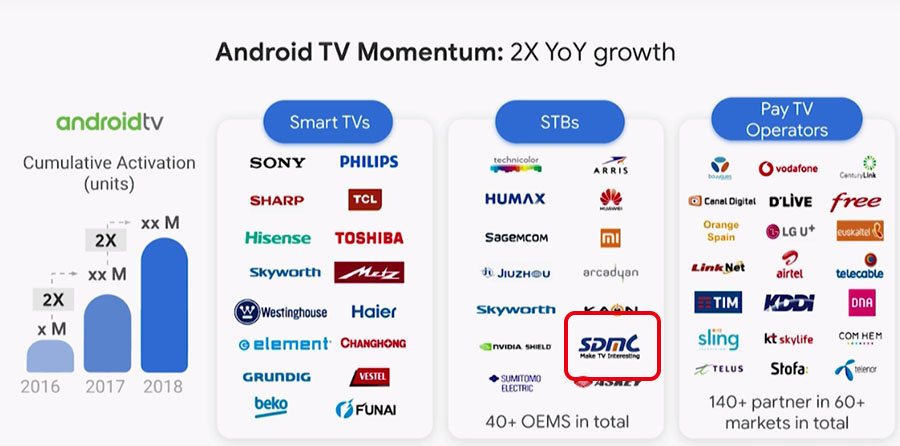 What is Apple TV?
Apple TV is a device running on tvOS, designed for streaming movies and TV shows to display on your TV. And, tvOS is an operating system developed by Apple Inc. Unlike Android TV, Apple plays a leading role in tvOS.Even though Apple TV is famous for its ultimate user experience and endless highlights, it can only be used by Apple Inc. On the other hand, Google's Android TV is widely used by many hardware manufacturers including Sony, Sharp, Xiaomi, Nvidia, and SDMC. So the following article I will focus on the benefits of Android TV for commercial use.

Android TV vs Apple TV: More Device Options with Low Cost and High Quality for Android TV
Benefiting from Google, partners can get pre-certified OTT hardware with low investment and rapid TTM. As one of Google's Android TV OEMs partner – SDMC has Google certified android tv boxes and HDMI TV dongles to provide more options for its customers. Also, rich experience on Android TV and Netflix make them affordable, available, and accessible to the customers' market.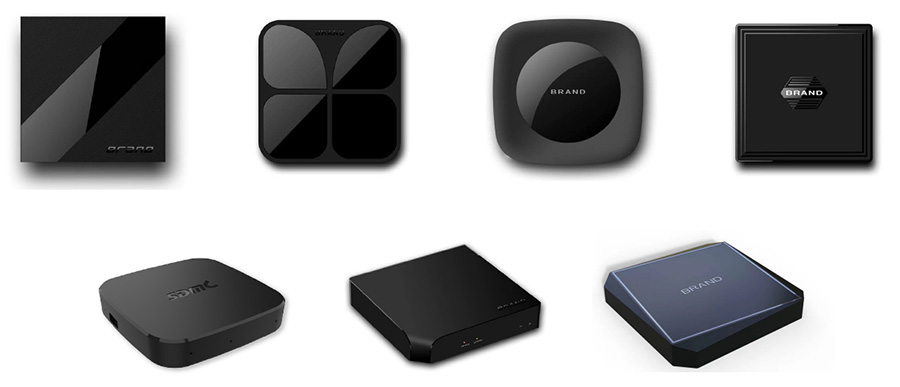 Android TV vs Apple TV: Great Flexibility and Independence for Android TV
Android TV allows operators to customize their own UX and continue to use their own search/reco/UI/billing/ads/platform. In other words, operators can customize the platform to meet their individual needs. This way, operators can use it to highlight their own apps, which increases the chances of users watching that content.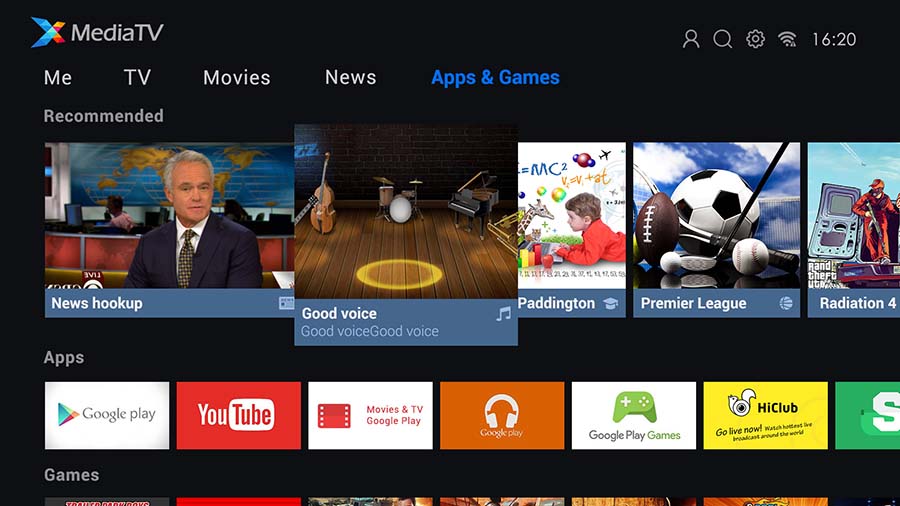 Android TV vs Apple TV: Excellent Google Services and Rapid Innovations for Android TV
Additionally, Android TV features an open system to allow operators to access an increasing number of third-party apps and services through the Google Play Store with
no integration cost.
While Apple TV's video services beyond Netflix, YouTube, and the iTunes library are pretty sparse. You can't use Hulu Plus or any of the other major video services through
the Apple TV, and even though the box runs on iOS, it has no support for apps, and offers very little in the way of expandability or customization.
Actually, Google does a better job than most TV manufactures when it comes to software update. They reduce fragmentation for app developers and promote innovation.
From operators to users, they all can get upgrades and security patches from Google.

Android TV vs Apple TV: Bringing Advanced Technology to The Live Room
With Google assistant built-in, users can simply speak the name instead of scrolling all the way up to the top of the interface and painfully typing out the name of the show, movie or actor they're looking for. Just say "Hey Google" to ask for the latest blockbuster, check the score, or dim the lights. A great function for operators to expand their business to the IoT area.
Apart from enjoying the experience of voice control, users can also cast content from 1000+ Android or iOS apps to TV via the chromecast function. With its flexible offerings, affordability and innovative rate of change, Android TV becomes even more appealing to customers.


Android TV vs Apple TV: Extra Value and Monetization
Thanks to the launch of Google's Android TV Operator Tier, operators have been provided with a new profit mode such as direct content partnerships, revenue share opportunities, etc. Moreover, they can customize their own Ad experience. In view of this, SDMC Advertising System is worth mentioning. Combining with XMediaTV and Android TV, SDMC Advertising System can make accurate advertisements and push different advertisement contents to different users.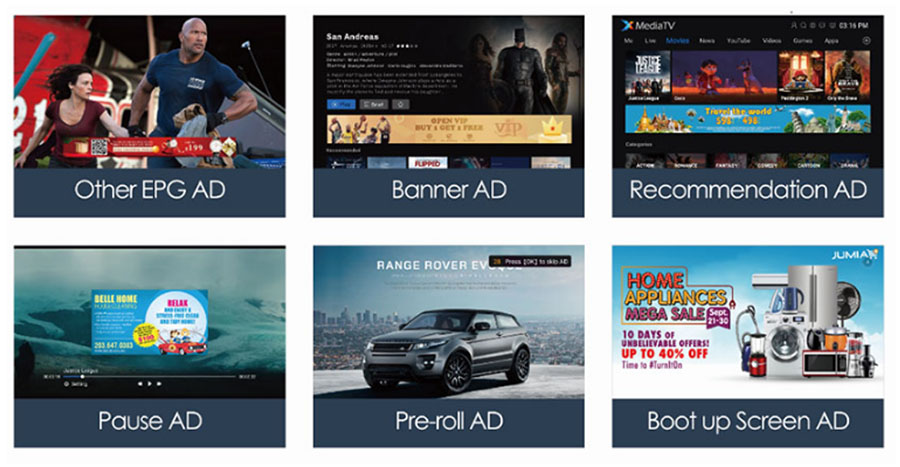 By contrast, Android TV seems to be a better choice whether in price or in features for companies use.