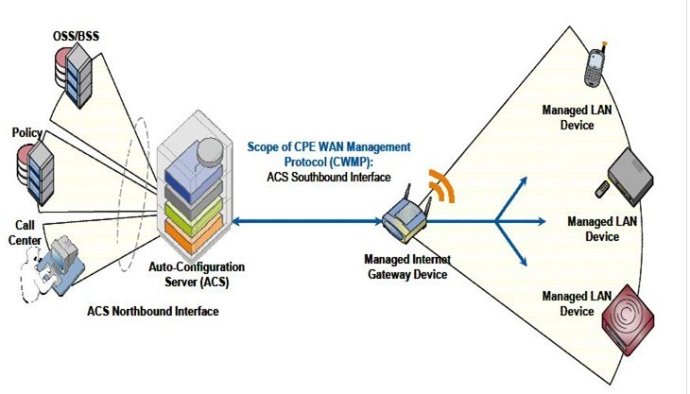 TR-069 (Technical Report 069) is a technical specification that defines an application layer protocol for remote
management of end-user devices. It was published by the Broadband Forum and entitled CPE WAN Management Protocol (CWMP).
As a bidirectional SOAP/HTTP-based protocol, it provides the communication between customer-premises equipment (CPE) and Auto Configuration Servers (ACS). It includes both a safe auto configuration and the control of other CPE management functions within an integrated framework. The protocol addresses the growing number of different Internet access devices such as modems, routers, gateways, as well as end-user devices which connect to the Internet, such as set-top boxes, and VoIP-phones. The TR-069 standard was developed for automatic configuration and management of these devices by Auto Configuration Servers (ACS). The technical specifications are managed and published by the Broadband Forum. TR-069 was first published in May 2004, with amendments in 2006, 2007, 2010, July 2011 to version 1.3. and November 2013 to version 1.4.
Other forums, such as the Home Gateway Initiative (HGI), Digital Video Broadcasting (DVB) and WiMAX Forum endorsed CWMP as the protocol for remote management of home network devices and terminals (such as the DVB IPTV set-top box). There is a growing trend to add TR-069 management functionality to home networking devices behind the gateway, as well as many other access devices like M2M, FTTH CPE/ONTs, WIMAX CPE[4] and other carrier access equipment.
There are four functions of TR096 for users' devices:
1. Auto-configuration and dynamic business configuration for Users' devices.
2. Managing users' software and hareware.
3. Monitoring users' situation and capability.
4. Diagnose communication defection.
OTT support TR-096: DV8120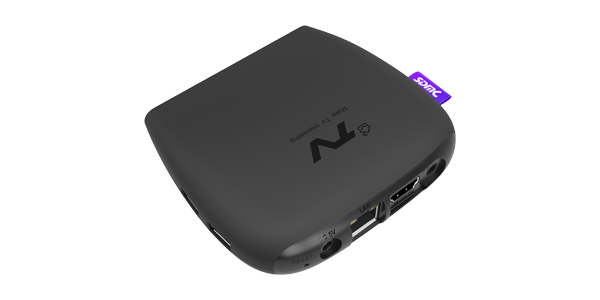 DV8120 support TR-096, which makes sure the safety and working condition of the OTT STB.
DV8120 is a quad core HEVC 4K@60fps Andorid OTT/IPTV set-top box. It is designed for ISPs, OTT operators and content aggregators that provide services based on IPTV, OTT and VoD.

* 64-bit CPU, Android 5.1
* 4Kp60 HEVC Main-10 Decoding
* HDMI 2.0, CEC, HDCP2.2
* DRM: Widevine, Playready, Verimatrix, Marlin
* Middleware: Beenius, HbbTV
* Multi-screen interactive: Miracast, DLNA, Airplay
* Upgrade system software via USB or network