APAC Android TV Summit 2019: Discover what innovative solutions SDMC will bring for Operator
APAC Android TV Summit 2019: Discover what innovative solutions SDMC will bring for Operator
Join SDMC for the APAC Android TV Summit on November 12-14, 2019 at The Berkeley Hotel Pratunam, Bangkok, Thailand. Seize the opportunity to know more about the latest and most innovative developments in the Android TV Ecosystem.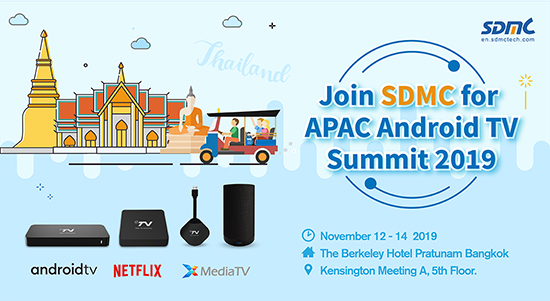 As a leading OTT end-to-end solutions provider, SDMC will present its comprehensive Android TV Operator Tier solutions at APAC Android TV Summit 2019(Kensington Meeting A, 5th Floor), enabling Operators & Service Providers to keep the control of their UI.
Exhibit Highlights
4K Android TV Q Devices Supporting WiFi 6 Technology and Mesh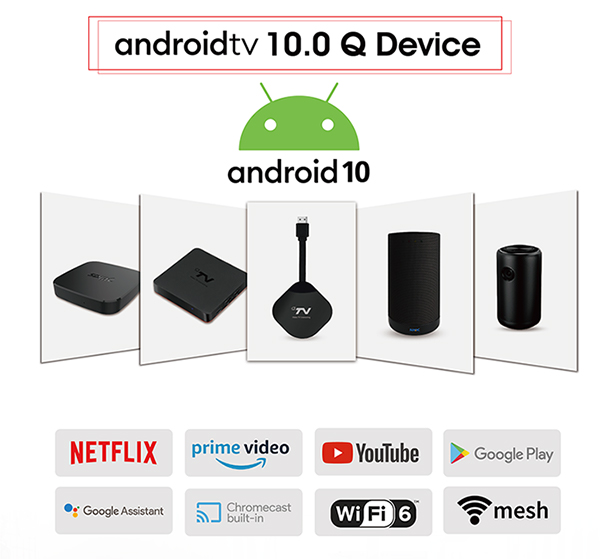 Running on the latest Android TV 10.0 OS and powered by the latest Amlogic S905X2 and S905X3, these 4K Android TV Boxes and Dongles feature increased processing power to enhance device capabilities for streaming app services. The Wi-Fi 6(802.11ax) technology gives Android TV devices a 30-percent increase in coverage capacity for IPTV and streaming video. Combined with Mesh, they can offer increased signal strength, reduce interference between neighboring hubs, and effectively support more devices in a single Wi-Fi channel.
Android TV Hybrid Boxes Supporting Verimatrix, Nagra, and Irdeto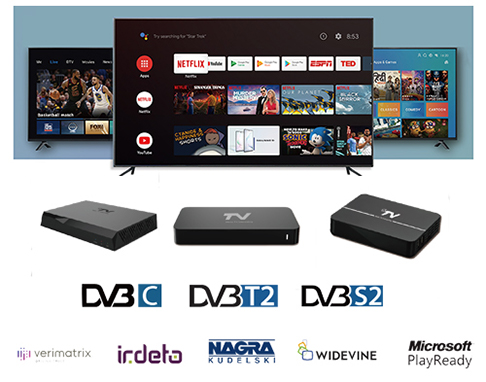 2K / 4K Android TV Hybrid Boxes provides tuner options for operators to support a wide range of broadcast standards, including DVB-S2/T2/C, ATSC, and ISDB-T. As an ODM partner of Netflix's Hailstorm program, SDMC has achieved pre-certification for its Android TV set-top box (STB) solutions, helping operators shorten time to market and maintain a competitive advantage. Moreover, SDMC has built up partnerships with Nagra and Irdeto for its 4K Android TV hybrid boxes to help content operators protect their revenue.
Updated Version of XMediaTV OTT System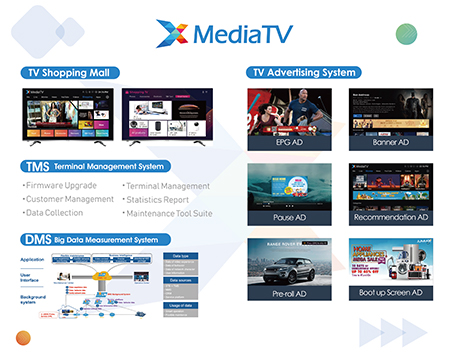 As Android TV becomes mainstream, operators need to look for other ways to differentiate themselves and bring value-added services to their consumers. XMediaTV, SDMC self-developed OTT system platform, provides several benefits for the operator:
-Big Data Management System helps operators to capture the data and give the data some sense and value;
-Terminal Management System can help operators to manage all STBs and reduce the maintenance cost of user management;
-Value-Added Services including Advertisement system and Shopping TV system;
-New Business Modelincluding Short Videos, PGC Video and App Store;
-Full OTT service support including Live Streaming, VOD service, and Multiscreen Clients.
Smart Home IoT Solution with Android TV Q and Innovative Devices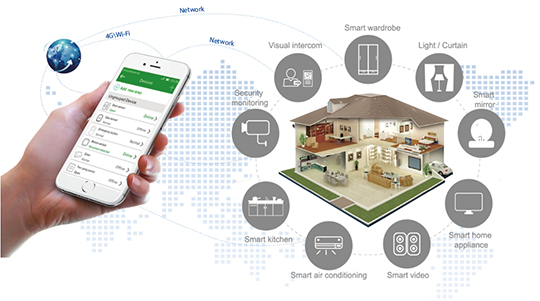 At this APAC Android TV Summit, SDMC will introduce an updated Smart Home Solution with Android TV Q to visitors. Also, SDMC especially prepared some samples, such as the smart speaker, smart projector, intelligent door lock, etc. For visitors, giving them a smart home experience.
There will be much more to expect. To book a meeting with SDMC, just drop us an e-mail at info@sdmctech.com

Meet with us at the following address:

Meeting Room: Kensington Meeting A, 5th Floor ( November 12th - 14th )
November14th Expo day: Booth no. 5, Paladium Hall, 10th floor


About SDMC
Initially established in 2003, SDMC has been focused on providing our global customers with products and services including Android TV set-top boxes, OTT TV platform, and IoT solutions, aiming to satisfy the needs of operators, content providers, application producers, and channel distributors.
Now, we have established business relationships with over 100 countries and completed a lot of new projects with Android TV and Netflix since 2017. For more details, visit https://en.sdmctech.com/atvsummit19/