SDMC this time brings the latest OTT/IPTV end-to-end solution and VAS system to telecommunications and broadcasters in NAB 2016. SDMC provides one stop OTT/IPTV solution for distant education, online security, smart community, enterprise publicity, e-government, smart hotel and web advertising machine.

What highlights SDMC will bring to NAB 2016? What new technology is applied to these product and system?


This time SDMC is going to display OTT/IPTV set top box with DRM, OTT/IPTV DVB set top box and IPTV streaming stick as well as VAS added value operation service system. As for OTT terminal, SDMC products are varied and convenient for use, which suitable to digital television user habit. For example, SDMC main products OTT set top box such as quad core DV 8120 OTT set top box solution and DV8199 OTT set top box. And as for OTT + DTMB set top box, SDMC offers DV7908-TH、DV8604-TH, OTT+AP set top box such as DV8127、DV5132,OTT+DVB-C/T2/S2 set top box.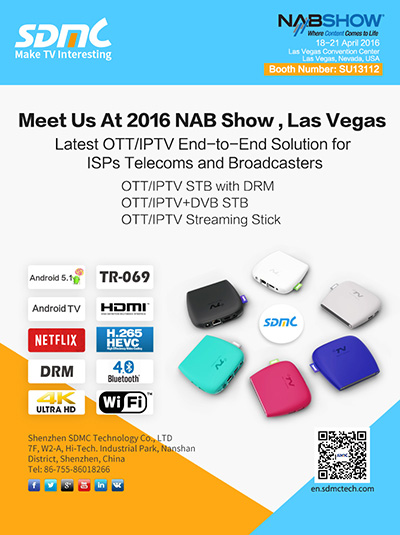 Also VAS added value operation service system is one featured product of SDMC. Functions of this system are content management, equipment management, operation support, value added service, AD promotion and statistics analyst. The system adopts advanced technology framework, latest calculation and storage technology to manage and control OTT set top box, to support data collection, push news, user behavior analyst and audience rating investigation, which enables operator to know about the box state in time.
What is more, the system supports advertisement, online education, game entertainment, smart home home, family health management and TV mall. When setting up added value system, SDMC used the existed cable and terrestrial digital television source to reduce the building and maintenance cost for operations.
Welcome to SDMC booth SU13112 in NAB 2016 for the latest OTT/IPTV solution and VAS added value operation service system.