BroadcastAsia 2023, the largest and most influential annual event in the Asian broadcasting and television industry, took place in Singapore from June 7th to 9th. The event brought together thousands of industry giants and exhibiting brands, attracting over 10,000 attendees. In the exhibition, SDMC showcased its latest and most innovative OTT, broadband, and smart home solutions, which garnered widespread attention and acclaim from the exhibition audience.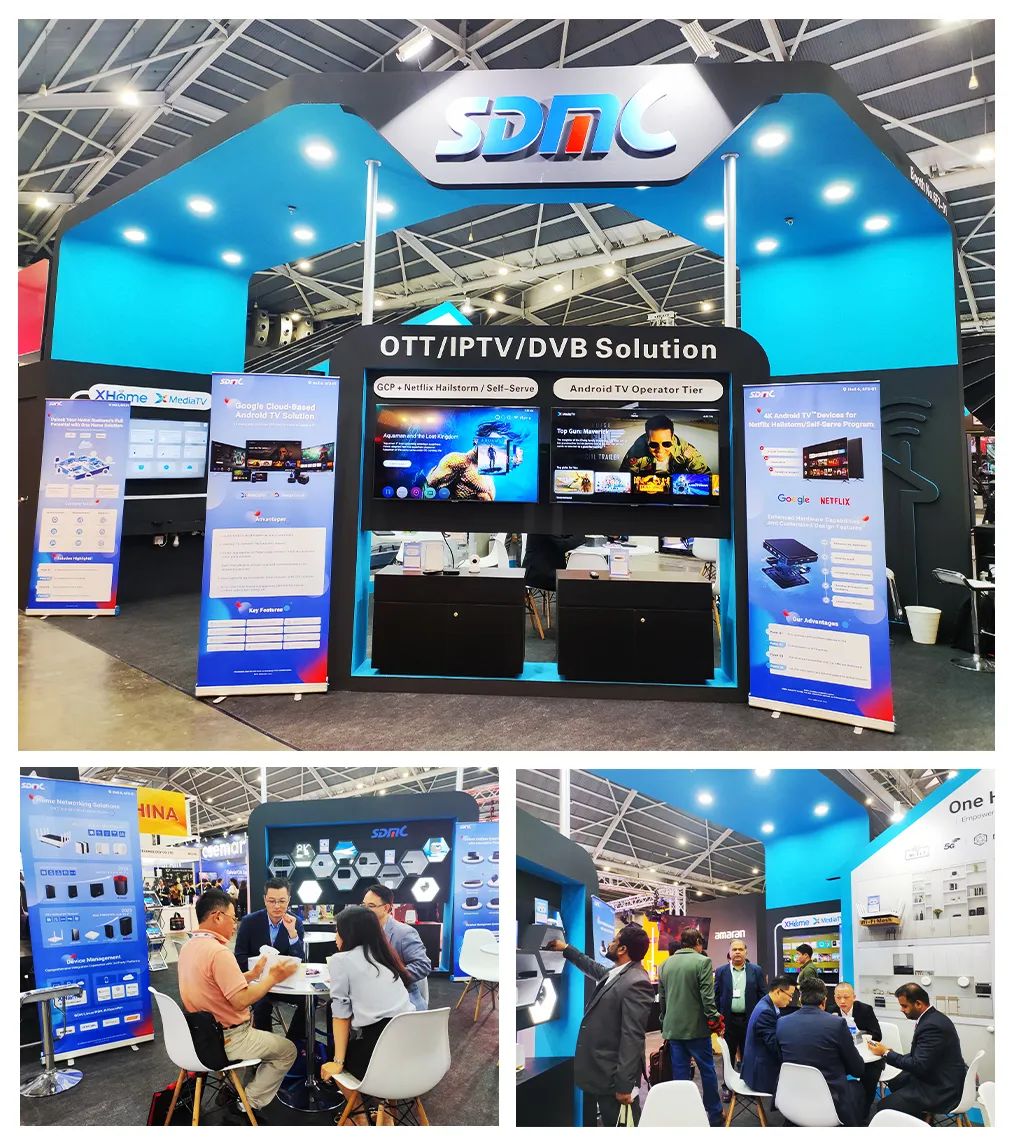 Boosting Operators' Connectivity with SDMC's Broadband Devices

With operators' increasing demand for high-quality networks, SDMC has launched a full range of home networking devices covering mainstream network access technologies such as 5G, Wi-Fi 6/6E/7, next-generation passive optical network (XGS-PON), and DOCSIS 3.1.






SDMC Home Networking Solution

incorporates the cutting-edge

Wi-Fi 7

, advanced

Wi-Fi 6E

, and 5G technology to provide lightning-fast, stable, and secure wireless coverage throughout the home and enterprise, ensuring that users enjoy lag-free connection and non-stop entertainment on all devices and, as a result, boosting operators' broadband business.


Elevating Operators' TV Entertainment Business with SMDC's Innovative Products

SDMC showcased several innovative products, including

8K Android Smart TV Box

,

4K Android Smart OTT Box with Camera

, smart projectors,

smart speakers

, and

the reddot winner 2023: 4K Mini TV Box

. These products not only have stylish designs but also integrate the most advanced technologies and functionalities.




By supporting

the XMediaTV OTT Platform

, SDMC's OTT solution empowers operators to effortlessly launch fantastic Android TV-based services for their customers, providing them with a wealth of content and enhancing their TV viewing experience.

Through the close cooperation with Google and Netflix in Netflix's Hailstorm/Self-Serve Program, SDMC has achieved pre-certification for its Android TV set-top box (STB) reference solutions, significantly expediting the time-to-market of the Netflix service for pay-TV operators.


Enhancing Operators' Smart Home Business with SDMC's One Home Solution

SDMC has launched

the One Home Solution

, which is a comprehensive suite of components that includes a cloud platform, user app, and intelligent terminals such as OTT devices, home networking devices, and smart home devices. This solution provides operators with essential management tools, operational support, and problem-solving capabilities while offering an extensive range of smart application scenarios to help them expand their smart home business.



SDMC is on a mission to build a smart home ecosystem by helping global operators deliver smart home media entertainment services in the most effortless way. Please feel free to contact our team at info@sdmctech.com to empower your OTT/IPTV, Broadband, and Smart Home offerings.