Barcelona, Spain – SDMC (MWC 2023 stand 2B20 in Hall 2), the leading solution provider of smart home ecosystem, together with Dialog Axiata PLC, Sri Lanka's Premier Connectivity Provider, announced that they have launched next-gen Wi-Fi mesh routers to power Dialog Smart Home solutions and secure whole-home Wi-Fi coverage.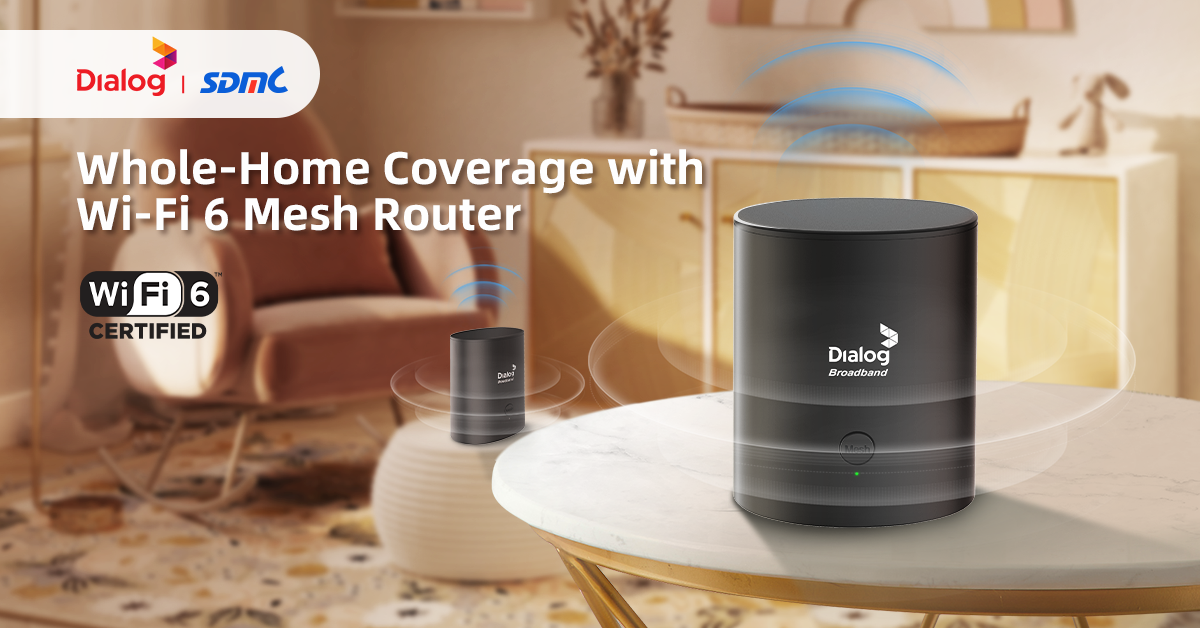 With the deployment of Dialog Smart Home, Dialog demands faster, more reliable, and more secure connectivity for the growing Sri Lankan market. The Wi-Fi Mesh solutions, as part of its Smart Home portfolio, include two models, one is a Wi-Fi 6-enabled AX1800 mesh router with speeds of up to 1201Mbps on 5GHz and 574Mbps on 2.4GHz band for total 1800Mbps simultaneously, and the other model is the AC1200 mesh router that offers speeds of up to 1,200Mbps.
Both routers adopt MediaTek chipsets and support OFDMA, MU-MIMO and EasyMesh technology, creating a seamless and reliable Wi-Fi system throughout the whole house and enabling a consistently strong Wi-Fi signal and speedy connection for a large number of connected devices at home, or even in meeting room, auditorium, and hotel. Therefore, everyone can work online efficiently, enjoy lag-free games or watch high-definition videos smoothly.
David Li, CEO of SDMC Technology, said, "We're so proud that Dialog continues to trust SDMC as the primary partner to expand its broadband business and smart home solutions. We are confident that the products and solutions we developed for Dialog, will unlock the potential of their wireless network, deliver a superb user experience, and significantly contribute to their business."
Speaking on the partnership, Lasantha Theverapperuma, Group Chief Operating Officer of Dialog Axiata PLC commented "Dialog is pleased to partner with SDMC Technology to welcome the future-fit Wi-Fi Mesh solution to Sri Lankan homes. Wi-Fi connectivity has become the heart of homes and offices, and Dialog is pleased to introduce Wi-Fi Mesh, a device specifically designed to ensure dependable and strong Wi-Fi connectivity in any room of your home or office. Along with the dedicated Smart Home Mobile App, this latest offering by Dialog Smart Home facilitates consistent and highly secure Wi-Fi connectivity, while providing the foundation for your future smart home devices".
The Wi-Fi Mesh devices are available now via www.dialog.lk/smarthome or at selected Dialog Experience Centres in Sri Lanka.
About SDMC
As the leading provider in the field of Smart Home industry, SDMC has established ecosystem advantages in Android TV devices, 5G CPE/Femtocell/Wi-Fi/GPON/Cable Modem devices, OTT/IoT platform and SaaS cloud services, helping operators worldwide deliver immersive video experience and rich entertainment services to their subscribers. Through close collaboration with ecosystem partners, we create lasting value for our customers, enrich home life and build a more intelligent future.
Since 2003, SDMC has served over 300 customers and 100 million households around the world. For more information on solutions, please visit www.sdmctech.com
About Dialog Axiata Group
Dialog Axiata Group, a subsidiary of Axiata Group Berhad (Axiata), operates Sri Lanka's Leading Quad-Play Connectivity Provider. Dialog Axiata PLC, listed on the Colombo Stock Exchange, supplements its market leading position in the Mobile Telecommunications sector with a robust footprint and market presence in Sri Lanka's Fixed Telecommunications, Digital Pay Television, Digital Services, Financial Services, and IT services markets through its subsidiaries, Dialog Broadband Networks (Private) Limited (DBN), Dialog Television (Private) Limited (DTV), Digital Holdings Lanka (Private) Limited, Dialog Finance PLC, and H One (Private) Limited. Dialog Axiata Group is Sri Lanka's largest Foreign Direct Investor (FDI) with investments totalling USD 3 Billion.
Dialog has been at the forefront of innovation and digitisation in the mobile industry in Sri Lanka since the late 90's, propelling the nation's mobile telephony infrastructure to a level of advancement on par with the developed world. The Company delivers advanced mobile telephony and high speed mobile broadband services to a subscriber base of over 17 Million Sri Lankans, via 2.5G and 3G/3.5G and 4G/4.5G networks, and in December 2018, Dialog showcased the first 5G pilot transmission in South Asia.
The winner of six Global Mobile Awards, Dialog has the distinction of being voted by Sri Lankan Consumers as the 'Telecommunication Brand of the Year' for a record eleventh year and the 'Service Brand of the Year' for the third consecutive year at the SLIM-KANTAR People's Awards 2022. The Company was also awarded 'Sri Lanka's Most Valuable Brand' for the fourth consecutive year and 'Most Valuable Telecommunications Brand' for the fifteenth consecutive year in the Brand Finance league table. Dialog is an ISO 9001 certified company, which is certified with the 27001:2013 standard for its Information Security Management System as well. The company's Environmental Management System also received the ISO 14001:2015 standard for its full scope of operations, becoming the first Quad-play in South Asia to do so. Dialog has received numerous local and international awards, including the National Quality Award and the Sri Lanka Business Excellence Award.