It is that exciting time again we are all geared up for APAC Android TV Summit 2022!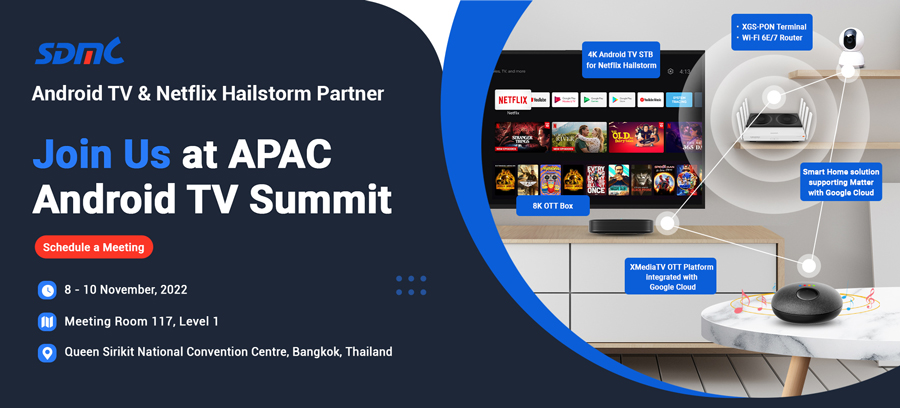 Let's seize the opportunity to know more about the latest innovative developments in the Android TV ecosystem, and stop by our meeting room 117 to experience our latest products and solutions.
As the leading Android TV & Netflix Hailstrom partner, we have full experience of commercial deployments of Android TV and will bring the tailored solution for operators, ensuring they deliver a great multimedia experience to their subscribers.
· Netflix Hailstorm Programs reference design
· Ready-to-use Android TV operator tier solution
· Next-generation 8K OTT Box, VR/AR Headset, Smart Speaker, and Smart Projector
· 4K Android TV Hybrid Box with Google's Common Broadcast Stack fully integrated
· Ultra-high performance DOCSIS 3.1 Cable Modem, XGS-PON Terminal, and Wi-Fi 6/6E/7 Router
· Fast-to-market OTT Platform integrated with Google Cloud
· SDMC Smart Home Solution seamlessly integrated with Google eco-system while supporting Matter

New offerings: SDMC Landed on Google Cloud in 2022


SDMC leverages the computing, video processing and data analytics capabilities of Google Cloud to reduce deployment time and enhance TV watching experiences.
Offering a comprehensive smart home solution with artificial intelligence(AI) capabilities of Google Cloud, Google Cloud Translation AI to swiftly offer content and subtitle translations for operators with different languages services and employ Video AI to automatically identify illegal or inappropriate content uploaded to XMediaTV while classifying videos based on locations, actors or scenes for more precise video recommendations.
Under its powerful Google ecosystem, XMediaTV and XHome upload its wide-ranging capabilities and make more possibilities to power and customize operator's projects.

Where and when to find us
The APAC Android TV Summit will run from

8th to 10th November at Queen Sirikit National Convention Centre, Bangkok, Thailand

You can find SDMC's team

at the summit

in

meeting room 117 located at level 1.

Select a time that suits you to come by, request a demo, and discuss how to drive your business goal with personalization.