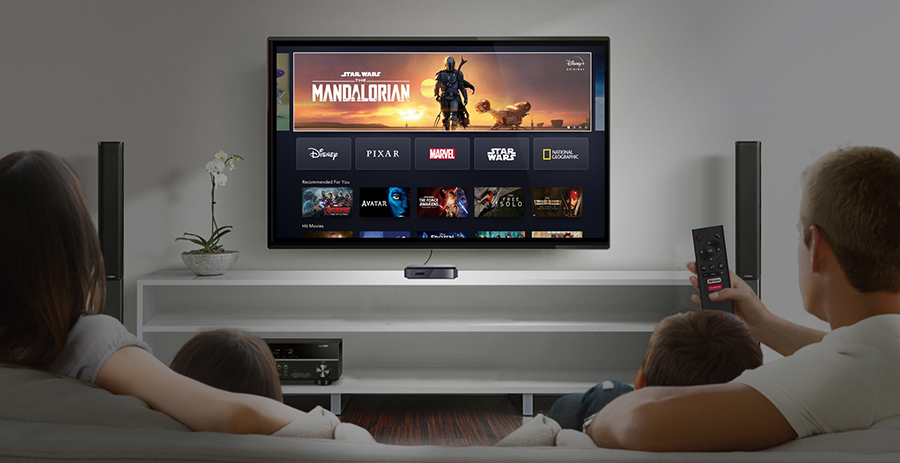 There is an increasing number of Pay-TV operators are embracing these OTT services as the must-have apps for the consumer. Among them, Disney Plus is one of the most influential OTT providers in the world.
Disney Plus is now available on our Android TV OTT boxes, which means that operators can deliver Disney Plus streaming service to their subscribers via our devices.
Disney+ is up to 50 million subscribers
Disney Plus is an on-demand, Ad-free streaming service distributing films and television series produced by The Walt Disney Studios and Walt Disney Television. With a massive catalog that includes popular content from all of the media conglomerate's brands, including Disney, Pixar, Marvel and Star Wars, all eyes have been on the company to see how popular its new service will become.
This service first launched on November 12, 2019 in the US, Canada and the Netherlands. Now it's also available in Australia, New Zealand, India, UK, Ireland, Germany, Italy, Spain, Austria, Switzerland, and France. Then it plans a progressive rollout worldwide over two years. Within five months of the initial launch, the Disney Plus streaming service has surpassed 50 million paid subscribers around the world according to Walt Disney. Many of the operators, therefore, tend to add Disney Plus on their offering or platform as a service supplement, helping foster positive operational performances and improve customer satisfaction ratings.
Pre-loaded with Disney+ App, SDMC's Android TV solution can reduce the time-to-market for operators looking to launch Disney Plus service as part of their offering, helping them to deliver more rich video services and seamless experience to their subscribers.