4K resolution is the development trends of the 4096x2160 pixel resolution, which falls into the ultra-HD resolution. The new Android OTT Box:
DV8120
is one of the quad core Android OTT / IPTV set-top-boxes with HEVC 4K@ 60fps. Under the 4K resolution, audience will be able to see the screen in every detail, every close-up, DV8120 will bring you perfect visual experience.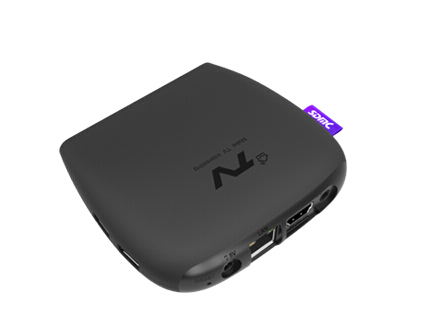 With the increasing needs of 4K panels and more 4K resolution video and TV channel appear, the requirement for OTT should increase its configuration at the same time. The OTT should support 4K decoding to play 4K videos. At this time, the SDMC bring DV8120 into the OTT industry with quad core CPU. DV8120 owns 4K decoder, 4K output to show the perfect visual experience.
At the same time, DV8120 will be able to support Bluetooth 4.0 devices including stereos, gamepad and headphones without the constraint of USB. It will bring more convenience for video gamers. DV8120 could easily install a variety of video games without any pressure on running and capability.
SDMC is satisfying the needs of customer and following the industry insights all the time. DV8120 have characters on the fashion looking and high configurations. With the appearing of DV8120, the OTT industry will towards high configurations and more value-added service.
DV8120 specifications:
* 64-bit CPU, Android 5.1
* 4Kp60 HEVC Main-10 Decoding
* HDMI 2.0, CEC, HDCP2.2
* DRM: Widevine, Playready, Verimatrix, Marlin
* Middleware: Beenius, HbbTV
* Multi-screen interactive: Miracast, DLNA, Airplay
* Upgrade system software via USB or network