Google TV has emerged as the new TV operating system starting with the Chromecast with Google TV in 2020, and has since shown up on smart TVs and other Android streaming devices. The underlying software of both Android TV and Google TV is still Android-based. The simplest way to think about Google TV is to imagine Android TV with a fresh coat of paint. What're the similarities and differences between them? We're here to break it down.
What are the main similarities between Android TV & Google TV?



Both Android TV & Google TV offer the same massive selection of smart TV apps and games, while also featuring support for voice commands with Google Assistant, smart home controls, casting with Chromecast, and media streaming. Both smart TV systems also offer video games via Google's Stadia cloud gaming service.

What are the main differences between Android TV & Google TV?
Google has refined the Android TV experience with a greater emphasis on personalized content, tailored recommendations, and functionality that extends beyond the TV and living room, letting you use the smart TV as a hub for your entire house full of connected devices.

User interface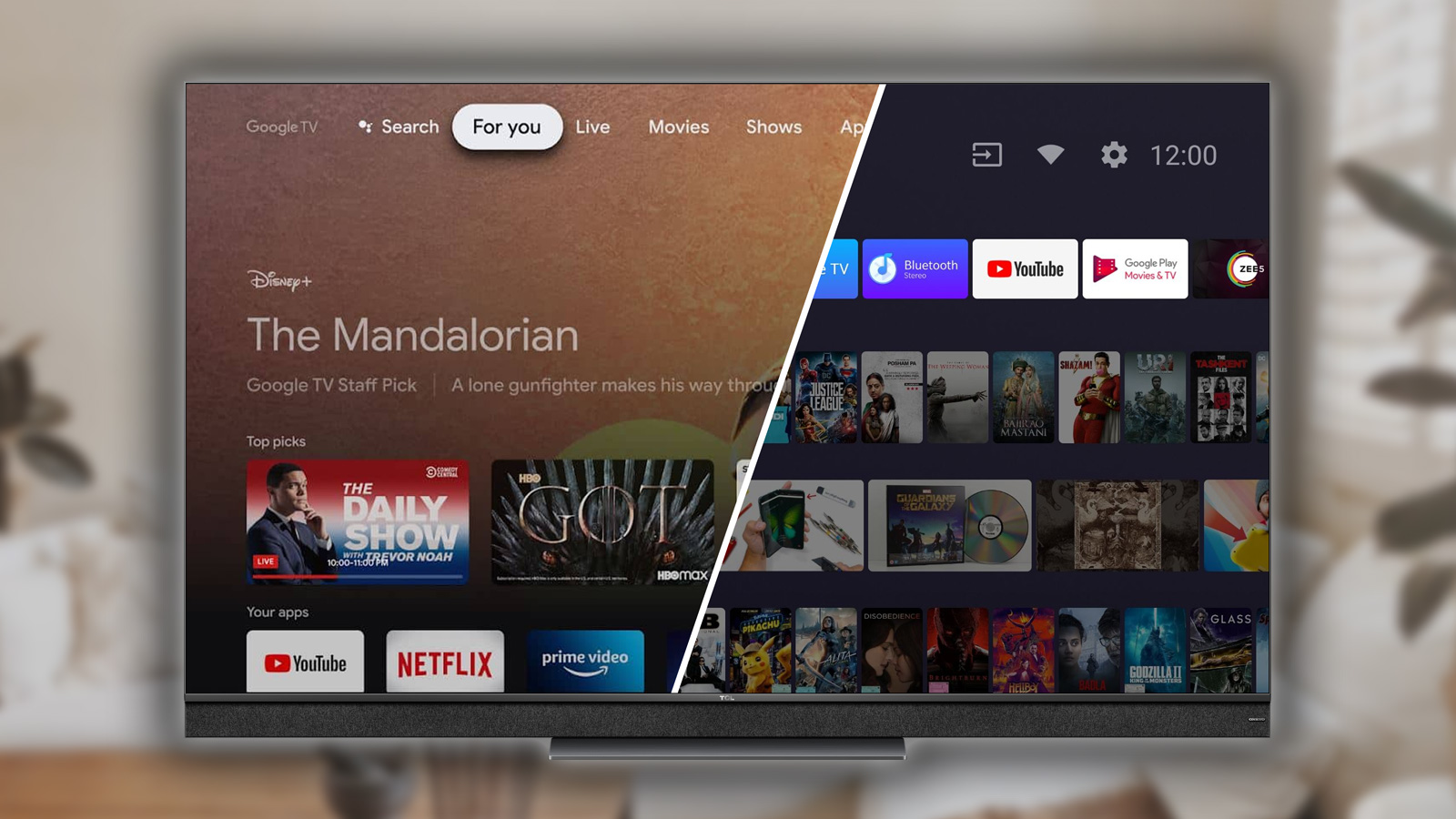 The biggest change is the interface, starting with the home screen. Instead of an experience focused on apps — such as Android TV's older interface which use row upon row of apps and content suggestions — the new Google TV interface puts content first.
A large image on the home screen showcases highlighted recommendations, cycling through movies and shows with big, beautiful proportional photos. These recommendations are drawn from your own preferences, pulled from the streaming services you use, the shows you watch, and some predictive magic from Google.
Compared to the older Android interface, which offered the scrolling menu of row after row of apps and app specific content recommendations, the new Google TV interface looks much cleaner, and easier for finding something to watch without having to browse app by app.
Some of these differences may not be long lived, however. Android TVs are getting updates that tweak the appearance to look and function a little more like Google TV. These differences may not roll out all at once, and the timing may vary by manufacturer and even model. Regardless, the evolution of Android TV continues, with Google TV being the next major step.
Live TV
The largest functional changes brought with Google TV is an emphasis on live TV programming, with an entire tab dedicated to live TV. Pulling from live content sources such as YouTube TV and Sling TV, you get a large on-screen channel guide showing you live content that is in progress, as opposed to on-demand streaming options that can be viewed at any time.
Mobile remote
Taking advantage of Google's large ecosystem of devices and connected apps, you can use an Android phone as a remote control for your Google TV.
The addition of a touchscreen and onscreen keyboards as part of the remote also make navigating the TV a lot easier. Entering passwords becomes smoother than having to navigate a "keyboard" on the TV screen, and typing a complex movie title may be preferable to having to repeat a confusing phrase to the voice search over and over again.
Parental Controls and Profiles
While Android TV allows users to log in with their Google account to manage apps and other preferences, the process is tedious. Plus, it still displays content recommended for the primary account holder.
On the other hand, Google TV supports the creation of profiles that sit within one Google account, and each one is fully personalized based on that individual's viewing activity. Parents can also create child profiles for younger family members and monitor and manage them via the Google Family Link service. It's a vast improvement over Android TV's system-wide parental lock setting that affects everyone.
Watchlist from mobile
That personalization also allows you to curate content when you're away from the TV. Watchlists let you highlight movies, shows, and events that you want to watch, and let you add that to your personalized watch list from any device that uses your Google profile. Whether it's your phone, your laptop, or the smart speaker in the other room, all of these Google connected devices can be used to add a show to your watch list.

Smart home integration
Google is taking advantage of its deep bench of smart home devices to let you make the most of the "smart" aspects promised by smart TVs.
You can view camera feeds from the best video doorbells and home security cameras right on the TV. You can control the smart lights in the your living room to set the mood for movie night without getting up from the couch. You can even jump on a Google Duo video call by connecting a webcam to your smart TV, giving you a bigger, better screen for those virtual get togethers that have become so important these days.
And, since Google Assistant is tied into all of these devices and built into the TV – complete with hands-free voice control – you can access any of these features just by saying "OK Google."
"Basic TV" Mode
One additional feature added to the new Google TV models is basic TV mode. This mode effectively turns off all of the smart functions and connectivity that's needed for regular smart TV use, while still supporting live TV via antenna or cable, and external devices like media players and game consoles.
But with the internet connection turned off, you eliminate some of the privacy concerns raised by tracking for content recommendations and ads, and basic mode also turns off Google Assistant on the TV.
In a world where nearly all TVs are smart TVs, it's kind of cool to have the option to turn all of that off.
The Google TV app
Helping to tie this whole experience together is the Google TV app, which replaces the older Google Play Movies & TV app.
Though it is confusingly named simply Google TV, the same name as the smart TV software, it's less confusing when you realize that the app and the TV software are designed to be used in tandem. The new Google TV app isn't so much an extra that's available, it's a core piece of the Google TV experience.
The App lets you browse content from all of your favorite services, add shows to your watchlist, buy or rent content, control the TV from the integrated remote over Wi-Fi or Bluetooth, and more.
For the moment, the Google TV app is only available on Android devices, but we expect it to come to Apple products as well. No timeline has been given for an iOS version of the Google TV app.
Conculsion
The general features of Google TV and Android TV are as following:
OS

Google TV

Android TV

Overall Findings

Support for multiple adult and child user profiles.

Massive selection of smart TV apps.

Strong focus on personalized content.

Manual and voice controls for smart home devices.

Dedicated tab for live broadcasts.

Strong choice of apps with very little missing.

Good support for smart home devices.

Multiple users need to log in with a separate Google account.

Parental controls affect everyone due to lack of child profiles.

User Experience and Apps

Supports the same apps as Android TV.

Personalized home screen for each user.

Strong focus on media over apps.

Smart TV app parity with Google TV.

Recommendations based on apps, not personal taste.

Not designed for content discovery.

Smartphone and Smart Home Support

Movies and TV series can be saved to profiles from your phone.

The Google TV app can be used to control your TV.

Chromecast fully supported.

Smart home controls for lights and cameras.

The Google TV app can also be used to control an Android TV smart TV.

Full support for Chromecast.

Smart home camera and light support.

Parental Controls and Profiles

Support for multiple profiles on the same Google account.

Child profiles with content restrictions.

Personal recommendations for each profile.

No support for multiple profiles on the same Google account.

Content suggestions all based on the main account.

Content restrictions via system-wide parental settings.
If you're just after a basic smart TV that can play content from Netflix and Disney Plus, use Android apps, and cast media with Chromecast, you really can't go wrong with either Android TV or Google TV. However, if your household has multiple people who would benefit from having separate user profiles and you watch a lot of live TV streaming apps on a very regular basis, Google TV is a clear choice.
Source: https://www.tomsguide.com/