Android TV is Google's platform for smart TVs and streaming devices.It brings the innovation of Google into the home through a simple, helpful entertainment experience.
Making it easier for people to watch, play, and do everything they love on their TV. In this article, we will show you some easy ways to customize the Android TV Home
screen to display your favorite apps, shows, and movies...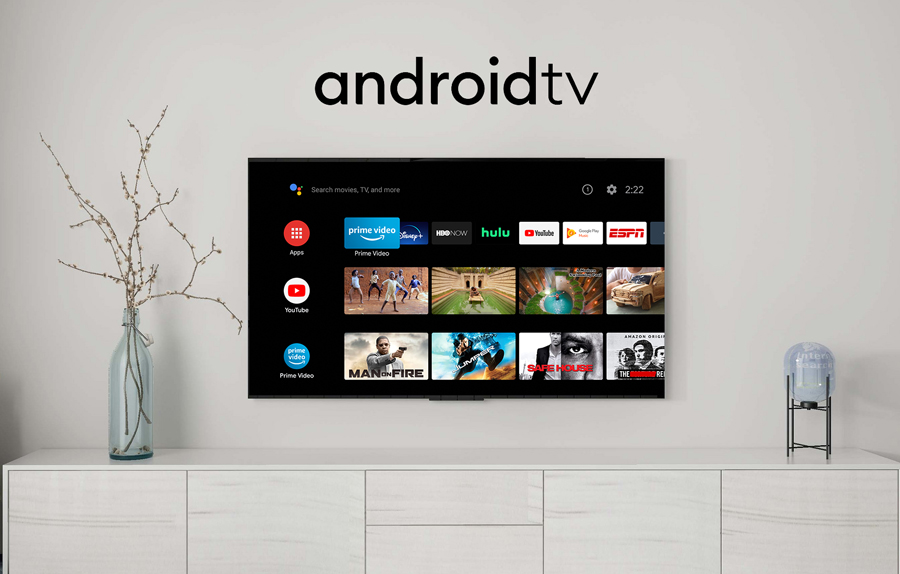 Add Shortcut to Favorites
The easiest way to customize your Android TV home screen is to add a shortcut to apps that you use the most. To do this, go to the Favorites Channel and scroll all the
way to the right.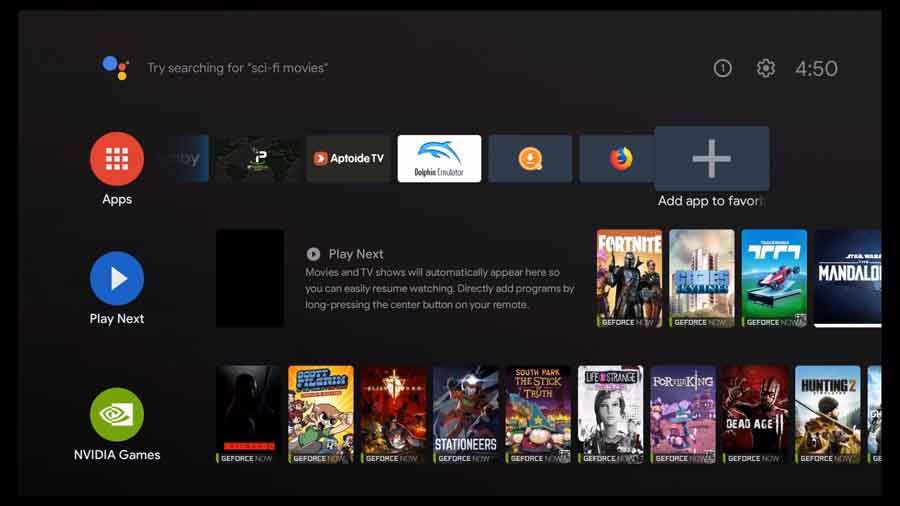 There you'll see a "+" icon that says
Add App to Favorites
. Click on it.

A list pops up with all of the native Android TV apps installed on your device. All you need to do is scroll down until you find the app that you want and click on it.
In this example, I'm creating a shortcut for the Mobdro app for Android TV.


That creates a new shortcut, but it's all the way at the end of the row. If that's not where you want it, you can move it anywhere you like on the row by
long-pressing on the app icon.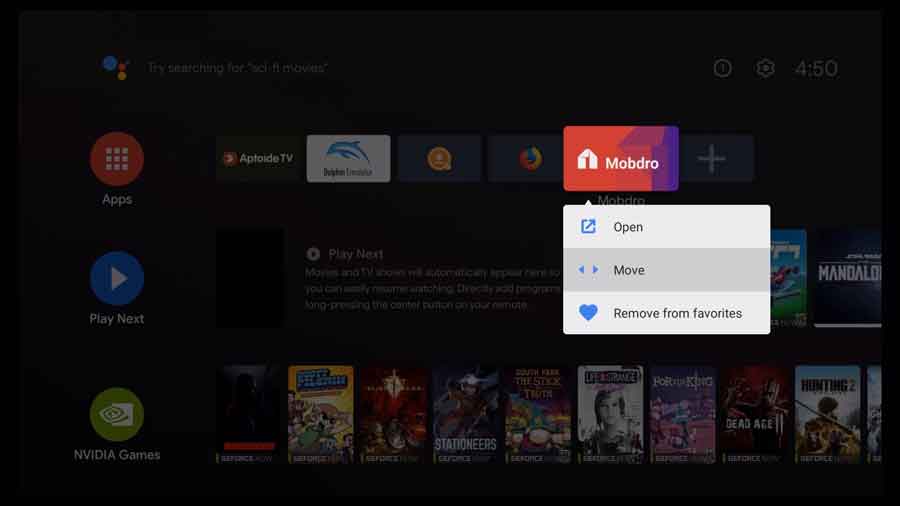 A small pop-up window appears with three options. You can open the app directly, move it or remove it from your Favorites Channel. Click Move.

The app icon will start flashing to let you know it's selected. Then you can move it left or right until it's exactly where you want it. Once you're satisfied with the
position, press the Back button to lock it in place.
You can also remove a shortcut the same way. Simply long-press on the icon until the menu pops up. Then select Remove from Favorites to delete the shortcut.
Customize Channel Rows (Add & Delete)

Android TV separates the content on your home screen into different rows, called 'channels.'
We've already talked about one in the previous section: the Favorites Channel.

Some apps create one or more different channels. That means your home screen can get pretty crowded. If you scroll all the way to the bottom of your Android TV home
screen, you'll find a
Customize Channels
button.

If you click on that, it opens up a menu with a list of all of the possible channels that your home screen can have, based on the apps you've installed.
And it will group them together under their parent app.

For example, in the photo above, you can see that Prime Video has one channel available, while Smart YouTube TV has three channels underneath it.
If an app only has one channel, like Prime Video, you can enable or disable it right from this screen by clicking on the toggle switch.
Similar to other toggle switches on Android TV, blue is enabled and grey is disabled.For apps that have more than one possible channel, you can click into them to see what your options are.

In this example, Smart YouTube TV has three possible channels: History, Recommended and Subscriptions.
Unfortunately, there's no way to know exactly what the channel will look like without enabling it. However, if you don't like the way it looks, you can disable it right away.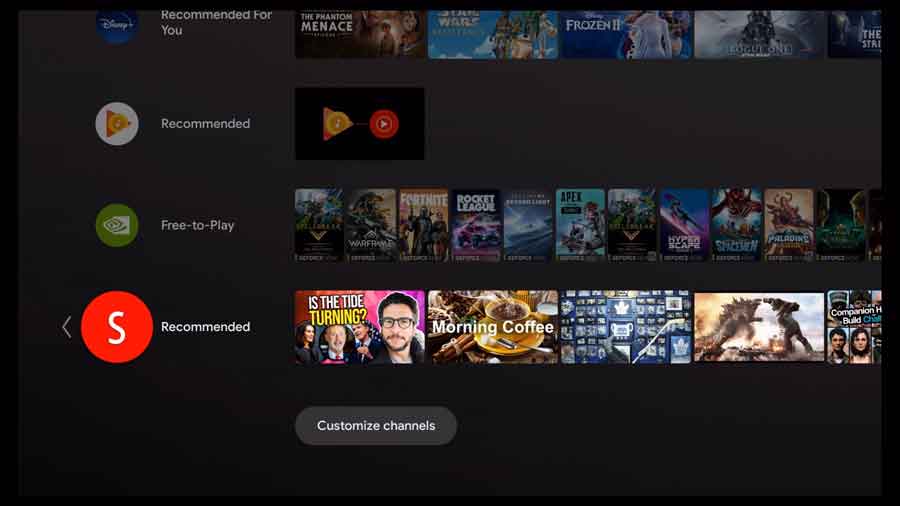 Once you enable a channel, it will appear at the bottom of your Android TV home screen.


Move Channel Rows Up & Down
But what if you don't want your new channel all the way at the bottom?
Thankfully, channels are easy to move, except for the Favorites and Play Next channels, which always remain at the top.
To move a channel, press left on the D-pad until a white circle appears with the word Move underneath it.

Now you can move the channel row up and down the home screen until you're comfortable with it's new location. Then click the Back button to lock it in place.

You can remove a channel row right from your home screen as well.
Press all the way left on any row and you'll see a white Remove button. Click on this to disable the channel and remove it from your Android tV home screen.
If you remove a channel and later decide that you want it back, you can go back into the Customize Channels button to re-enable it.

Video Previews
Certain Android TV apps will allow you to preview videos right from their home screen channel. This controversial feature rolled out back in 2019 and was almost universally despised.
The good news is there's a setting you can change to disable it!
Open your Settings menu and click on Device Preferences.
Then, scroll down until you get to the Home Screen option.

Under the Home Screen settings, there are two toggle switches that I recommend disabling: Enable Video Previews and Enable Audio Previews.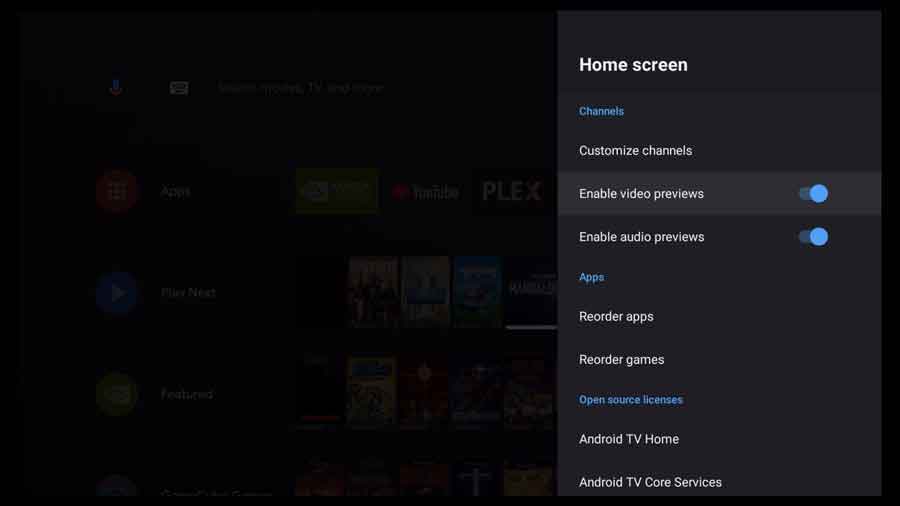 This will stop Android TV from auto-playing videos if you hover over them for too long.
The above are few tips to
customize your Android TV Home screen. Hope it's helpful for you.

Original:
https://androidtvnews.com/customize-android-tv-home-screen/