The growing popularity of IP television, video streaming services, OTT services along with access to high-speed internet connectivity is driving global Wi-Fi 6 adoption. When we talk about Wi-Fi 6, the first impression of Wi-Fi 6 is that it can make our Wi-Fi network faster. Yes, things are going to be speedier than before -- but beyond basics like speed and range, what's key about Wi-Fi 6 is how it will reshape the way routers handle the growing number of internet-connected devices in our homes and lives. First, Let's start with the basics questions!
What's Wi-Fi 6?
Wi-Fi 6 is the next-generation standard in WiFi technology. Wi-Fi 6 also known as "AX WiFi" or "802.11ax WiFi" builds and improves on the current 802.11ac WiFi standard. It's an upgraded standard that compatible devices, particularly routers, can take advantage of to transmit Wi-Fi signals more efficiently.
What makes Wi-Fi 6 faster?


Two key technologies are speeding up Wi-Fi 6 connections: MU-MIMO and OFDMA.
MU-MIMO
, which stands for "multi-user, multiple input, multiple output," is already in use in modern routers and devices, but Wi-Fi 6 upgrades it.
The technology allows a router to communicate with multiple devices at the same time, rather than broadcasting to one device, and then the next, and the next. Right now, MU-MIMO allows routers to communicate with four devices at a time. Wi-Fi 6 will allow devices to communicate with up to eight.
You can think of adding MU-MIMO connections like adding delivery trucks to a fleet, says Kevin Robinson, marketing leader for the Wi-Fi Alliance, an internationally backed tech-industry group that oversees the implementation of Wi-Fi. "You can send each of those trucks in different directions to different customers," Robinson says. "Before, you had four trucks to fill with goods and send to four customers. With Wi-Fi 6, you now have eight trucks."
The other new technology,
OFDMA
, which stands for "orthogonal frequency division multiple access," allows one transmission to deliver data to multiple devices at once.
Extending the truck metaphor, Robinson says that OFDMA essentially allows one truck to carry goods to be delivered to multiple locations. "With OFDMA, the network can look at a truck, see 'I'm only allocating 75 percent of that truck and this other customer is kind of on the way,'" and then fill up that remaining space with a delivery for the second customer, he says.
In practice, this is all used to get more out of every transmission that carries a Wi-Fi signal from a router to your device.



Wi-Fi 6 expands the WiFi band from 80 MHz to 160 MHz, doubling the channel width and creating a faster connection from your router to the device. With Wi-Fi 6, you can enjoy 8K movies, large file downloads, and uploads, and responsive smart home devices – all without buffering.
What benefits does Wi-Fi 6 bring to us?
Reduce Power Consumption with Target wake up time
Another new technology in Wi-Fi 6 allows devices to plan out communications with a router, reducing the amount of time they need to keep their antennas powered on to transmit and search for signals. That means less drain on batteries and improved battery life in turn.
This is all possible because of a feature called Target Wake Time, which lets routers schedule check-in times with devices.
It isn't going to be helpful across the board, though. Your laptop needs constant internet access, so it's unlikely to make heavy use of this feature (except, perhaps, when it moves into a sleep state).
Instead, this feature is meant more for smaller, already low-power Wi-Fi devices that just need to update their status now and then. (Think small sensors placed around a home to monitor things like leaks or smart home devices that sit unused most of the day.)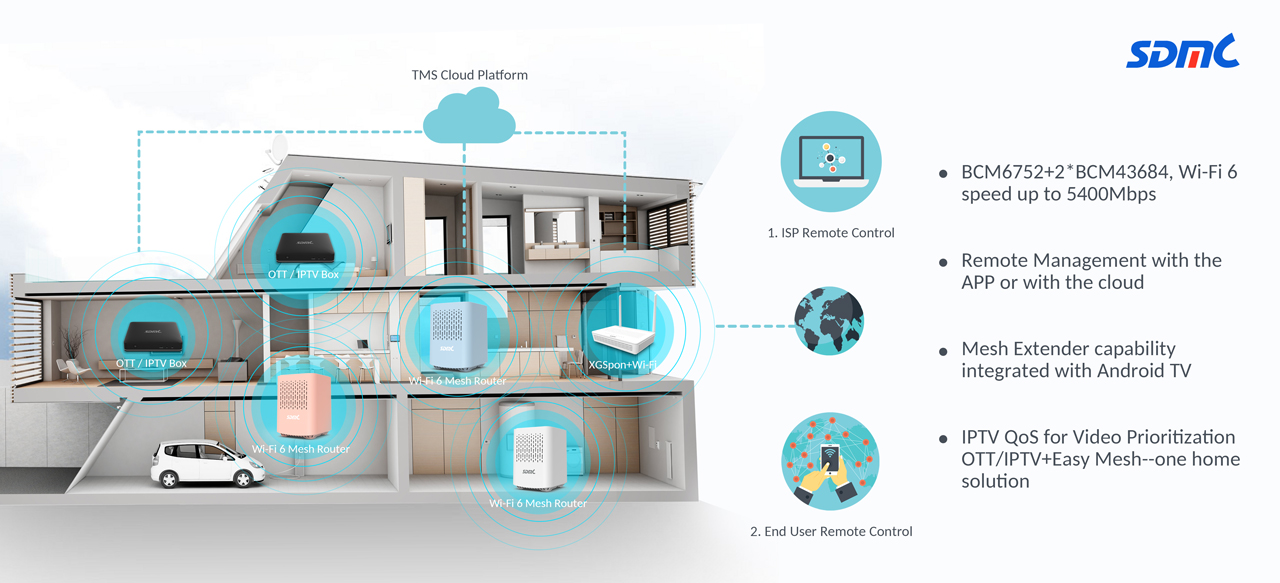 Wi-Fi 6 features the latest and most advanced Wi-Fi security protocol WPA3. WPA3 makes it harder for hackers to crack passwords by constantly guessing them, and it makes some data less useful even if hackers manage to obtain it.
Current devices and routers can support WPA3, but it's optional. For a Wi-Fi 6 device to receive certification from the Wi-Fi Alliance, WPA3 is required, so most Wi-Fi 6 devices are likely to include the stronger security once the certification program launches.
To take full advantage of the next-gen Wi-Fi 6 technology, operators& ISPs are beginning to deploy their Wi-Fi 6 devices. WiFi 6 mesh routers are constantly emerging in the market. Here recommend our latest and economic Wi-Fi 6 mesh router for your reference.

Reference:
https://www.theverge.com/2019/2/21/18232026/wi-fi-6-speed-explained-router-wifi-how-does-work