The next-generation of the Android operating system- Android 9.0 Pie has been unveiled at the Google I/O developer conference. As a successor to
last year's Android 8.0 Oreo, you may be curious about their differences.Here's a comparison between Android Pie and Android Oreo to know the
important changes.

Android Pie vs Android Oreo: Visual Changes

Android 9 Pie gives a fresh look, brings back a little more color, a few more curves. For example, the settings menu in Android P has more colorful icons
than Oreo. And the drop-down quick settings bar uses blue circles rather than plain icons, also, it has a more rounded view to it in contrast with the plain
sheet-like feel of Oreo's drop-down menu.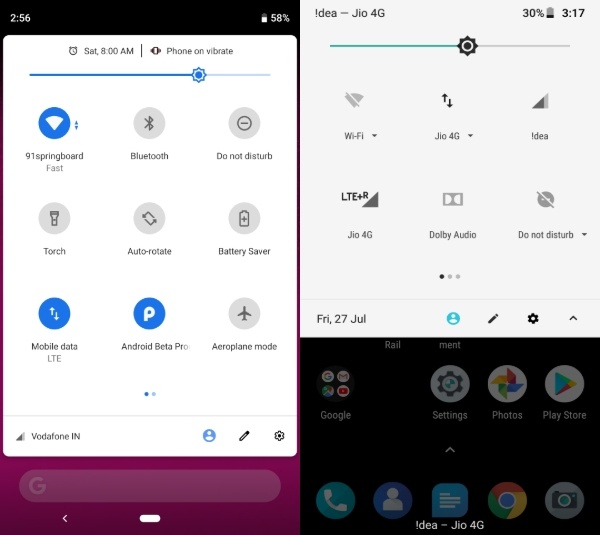 Android Pie vs Android Oreo: digital wellbeing

There is a new feature in Android Pie which was not there in Android Oreo, that is called the "Dashboard". This feature notes the number of times you
unlock your phone in a day, the number of notifications you receive and more. On the other hand, Oreo has a feature to tell you how much battery
power is being used by the apps.
Android Pie vs Android Oreo: Usage Limits
There are app times provided in Android 9.0 P that was not there in Android 8.0 O. these app times let you set an allowance upon each app and when
you're about to run out of your pre-set allowance time, you'll get a reminder notifying you about it and once it gets over, the app icon will grey-out –
telling you straight that "time's up, facebook friend".

Android Pie vs Android Oreo: night mode
Android P has taken a lot more careful about "digital wellness" than any of the previous Android operating systems.Android Oreo has a feature called
Night Light, which takes the blue light out of the display as you get closer to bed time. This is easier on the eyes, makes the display look yellow/orange,
and makes phone use less of a sleep disturbance. Android 9.0 P has taken it a notch further and now as you approach your pre-set sleep time, the screen
will turn into grayscale and "do not disturb" mode will be activated automatically.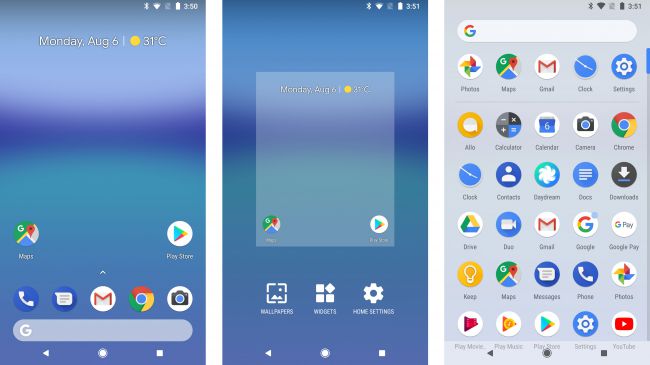 Android 9.0 Pie vs Android 8.0 Oreo: Adaptive Brightness control
Android Oreo has a standard adaptive brightness mode to increase and decrease the screen brightness depending on the ambient light conditions.
With Android Pie, this feature becomes more intelligent. It learns from the tweaks made in the lighting conditions and maps a custom backlight curve.
With this improved Adaptive Brightness control, you can experience better convenience.

Android 9.0 Pie vs Android 8.0 Oreo: Adaptive Battery management

Between Android 9 pie vs android 8.0 oreo, Android 9.0 Pie makes the control of background power usage by applications more visible with a mode
called "adaptive battery" This designs itself according to how often an app is being used.So the Android P vs oreo performance has concluded that the
performance of Android 9.0 Pie has an advantage over Android 8.0 Oreo. In Pie, The mobile applications that you rarely use will have only the basic
permissions. This will not affect the usage of the apps you often use.

Android 9.0 Pie vs Android 8.0 Oreo: Volume control
Volume control In Android Oreo, if you press the volume keys, the function will vary based on the context. With Android Pie, the volume buttons will
control media volume as a standard functionality. There will be a button control between silent, normal and vibration-only notification modes in the
volume interface.

Android 9.0 Pie vs Android 8.0 Oreo: App AI
Android 9 Pie is smarter than Android 8 Oreo. It predicts the features you'll want, and puts them in front of you before you go looking for them.
Apart from these major functions, there are more android P features which make the new devices better and majorly more user-friendly such as:
Zooming in to the words when you're trying to copy and paste.

An easier way to set your screen in landscape mode when it is default set in portrait mode.

The stack of recent apps has become horizontal scrolling which makes it easier to switch between apps.

Android P is Highly gesture controlled with the advantage of disabling the home button altogether.
In this article, we introduce the new features of Android 9.0 P OS in mobile phone. There also has set top box running Android 9.0 Pie.
What's the difference between Android 8.0 O and Android 9.0 P in set top box? Welcome to follow us for the latest news.
If you're interest in Android TV 9.0 Pie set-top box, pls click the following link