At the I/O conference in 2014, Google launched Android TV. It's a system that organizes your content into one platform for easy organization and searching – including Google's own voice search functionality. You can find out all about the official
Android TV
here.
If that sounds familiar, it should.
Android TV is Google's attempt to run your media hub. We've seen similar efforts over the years from Microsoft (Xbox), Sony (Play station and connected Blu-ray players), Roku, Amazon, Apple, and the list goes on and on. Android TV is the second attempt from Google in this space from Google – the third if you count the Chromecast. Google TV, which was their first attempt at ruling your living room, but never really caught on.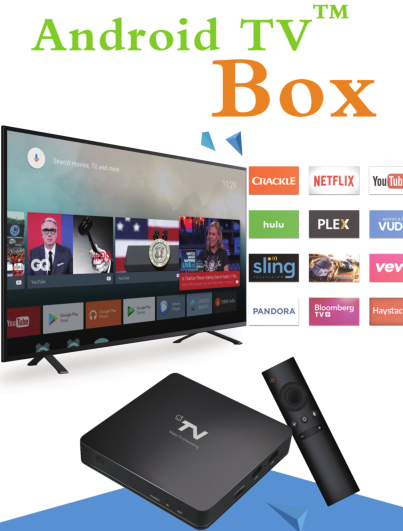 The difference between Android TV and an Android TV box, lies in the operating system itself. Android TV is a special version of the core Android OS. Android TV can't run every app, at least not without rooting your device. But, the apps that it can run are specifically designed to be run on your television rather than a touchscreen.
Why is that important? Well, lets use Netflix as an example. If you've used Netflix on your smartphone or tablet, then you'll remember swiping up and down to scroll through the list of genres. Once you found what kind of movie you're looking for, you can swipe left or right to see what's in that genre.
How exactly do you swipe on your TV set?
So, the Netflix Android TV app was built from the ground up to use the remote control rather than a touchscreen. It's the same for every other Android TV app.
What's the catch? You can only get Android TV on a higher-end, newer Smart TV, say 2015 and later. It's also available on a handful of high-end TV boxes.

Not everyone can afford a new high-end TV or need something as powerful as the Shield. Android TV boxes offer similar performance, minus a few features, for a fraction of the cost.

Android TV VS Smart TV Box
Android TV

Smart TV Box

Android TV is the Google's third attempt to run your media hub.

It is a system which organizes your content into a single platform for easy organization and searching of your content.

Moreover, it is a special kind of version of core Android Operating System.

Appliances of this kind can't run every application that you install.

Everyone can not afford a new Android TV or something similar, as the cost would be high.

Android TV Box is a TV box which runs on the Android operating system.

It is trying to make it easier for the user to use your TV easily from your living room couch.

These small Android TV Boxes can transform any TV into a smart TV with a variety of options.

Most of the people use the Android TV Box to stream movies or TV shows from the streaming websites of their choice.

The product is compatible to run all the applications that you will install in your box.

Such appliances offer you with good performance, ignoring a few features, for just a little cost.