Original: androidauthority.com by Robert Triggs
Following the demise of Google TV, Android TV has consistently been one of the most rumored Google products in recent memory. At I/O, Google has finally announced how it plans to invade our living rooms once more.
First up, as the name implies, Android TV is essentially Android optimized for the big screen. Android TV is based on the new Android L operating system, which comes with the updated look and feel of Google's new Material Design, as well as many familiar Google apps, like the Play Store.
Android TV is controlled via voice input and a D-Pad control, which can come either from a game controller input or another Android device that is running the Android TV app. Android Wear watches can also be used to generate the necessary D-Pad input.

Movies, Music, and Video

Android TV comes with full access to Google Play's existing media content, meaning that you can listen to your existing music library and watch all the show's that you've purchased for your tablet directly on your Android TV, just log in with the same Google account. Right out of the box, customers can access thousands of movies, TV shows, and songs.
Furthermore, Google has partnered up with the usual media suspects. Android TV has access to the popular streaming services like Hulu, Netflix, and Spotify, and many more. There's a specific Android TV store set to arrive with the launch of Android L, which contains apps, steaming services and games that are specifically optimized for Google's TV service.

The user interface has also been optimized for the big screen, allowing users to easily navigate to their favorite apps, games, and other content while sitting at a distance. The entire system is hooked straight up to Google's search engine, allowing for a quick search for your favorite shows, speedy information on actors/actresses, and even a list of Oscar nominated movies.
Android TV doesn't just limit you to Google's services, it can also handle a wide variety of traditional TV inputs, including HDMI, conventional TV tuners, and IPTV receivers. This feature comes complete with a traditional channel hopping UI. Google Cast also makes its way over to Android TV, allowing users to load up content stored on their Android smartphone or tablet, and cast it straight to their TV.

Get your game on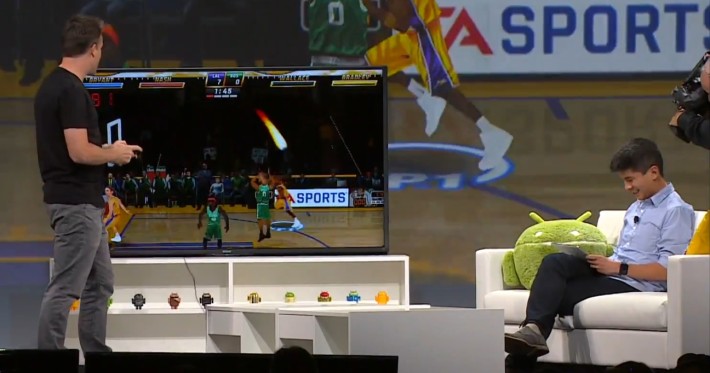 Perhaps the surprise focus of Android TV is the amount of detail being paid to gaming. Android TV comes fully integrated with Google's existing Play Games Service, allowing for cloud saves between your TV box and Android smartphone/tablet, as well as full integration with scoreboards and the like. By putting games up on the big screen, Google has opened the door for developers to bring split-screen gaming to Android too.
Integration with Google Play Games also allows for cross system multiplayer gaming, with one person playing on a TV and another playing on a tablet. Based on the demo, it looks quite seamless. Some existing games, like Riptide GP2 have already added in a split-screen mode specifically for Android TV, and we might see more of this coming from other developers.

Set-top boxes galore

Android TV will be coming to a variety of form factors, including TVs, set-top boxes, and streaming boxes. The entire 2015 HD and 4K smart TV ranges from Sony will come integrated with Android TV, as will the 2015 ranges from Sharp and TPVision.
Asus and Razr are preparing to launch their own steaming boxes for launch this fall, and, much like the rest of the Android platform, other manufacturers are free to come in and build their own Android TV boxes, complete with whatever hardware they like. This could open the door for boxes with additional graphics horsepower for gaming, such as Nvidia's Tegra K1, and some healthy competition should help to keep the price point affordable.