What's the difference between OTT and IPTV
IPTV delivers television content using signals based on the Internet protocol (IP), through the open, unmanaged Internet with the "last-mile" telecom company acting only as the Internet service provider (ISP). As described above, "Internet television" is "over-the-top technology" (OTT). Both IPTV and OTT use the Internet protocol over a packet-switched network to transmit data, but IPTV operates in a closed system—a dedicated, managed network controlled by the local cable, satellite, telephone, or fiber-optic company.
In comparison, OTT (over-the-top) video services use the publicly accessible Internet to deliver video streams. Such content is not just available via set-top-boxes, but also via any devices that can access the Internet – such as phones, tablets and smart TVs with a broadband connection. Popular OTT services include Netflix and Hulu.
At the end of the day operators can choose between IPTV and OTT or decide for the combination of both. Below are some the key differences:
Comparison Category
OTT ( Over the Top)
IPTV ( Internet Protocol TV)
Content Delivery
Uses open internet, un-managed network.
Open ecosystem
Uses dedicated, managed network.
Walled garden ecosystem
Network Type
Delivered from content provider /
aggregator to the viewer using open
network. Usage of CDN
Closed, proprietary network,
accessed via a specific internet
service provider
Network Relationship
Without the need for intervening carriage
negotiations, or infrastructure investments
Services are delivered on optimized
and custom high bandwidth network
Service Examples
Popular Video on Demand services like
YouTube, Netflix, Amazon LoveFilm, Hulu,
Sky Go, BBC iPlayer etc.
IPTV services like U-Verse (AT&T),
Prism TV (CenturyLink)
Delivery Protocol
Delivered over HTTP / TCP, a connected
transport protocol. Movement towards
adaptive streaming technologies HLS
(Apple), Smooth Streaming (MS)
and HDS (Adobe)
IPTV uses Transport Stream (TS)
transmission technology. Uses RTP
(Real time protocol) over UDP, a
connectionless protocol
Content Catalog
Widely used for freemium and economical
subscription VOD
Used primarily for premium VOD
and real time content delivery like
broadcast TV
Routing Topology
Unicast (HTTP), Simulated Multicast
(UDP/TCP)
Multicast. Initial unicast burst during
channel change leading to Multicast
join
Service Category
Complementary Service
Main service, similar to Satellite/
Cable TV services
Major Platform Players
OVP (Online Video Platforms) like Kaltura,
Brightcove, CDN Players like Akamai, L3,
Limelight, Cloud Service Providers like
Amazon
TSP ( Telecom Service Providers)
and IPTV platform vendors -
Microsoft Mediaroom ( now Ericsson),
ALU, Cisco
Key Benefits
Low cost, flexible model, Easy to manage
and operate
High quality of service and quality of
experience. Monitoring and control,
interactive services
SDMC Smart set-top boxes and end-to-end solution provider for your IPTV / OTT business
IPTV / OTT Set-top Boxes>>>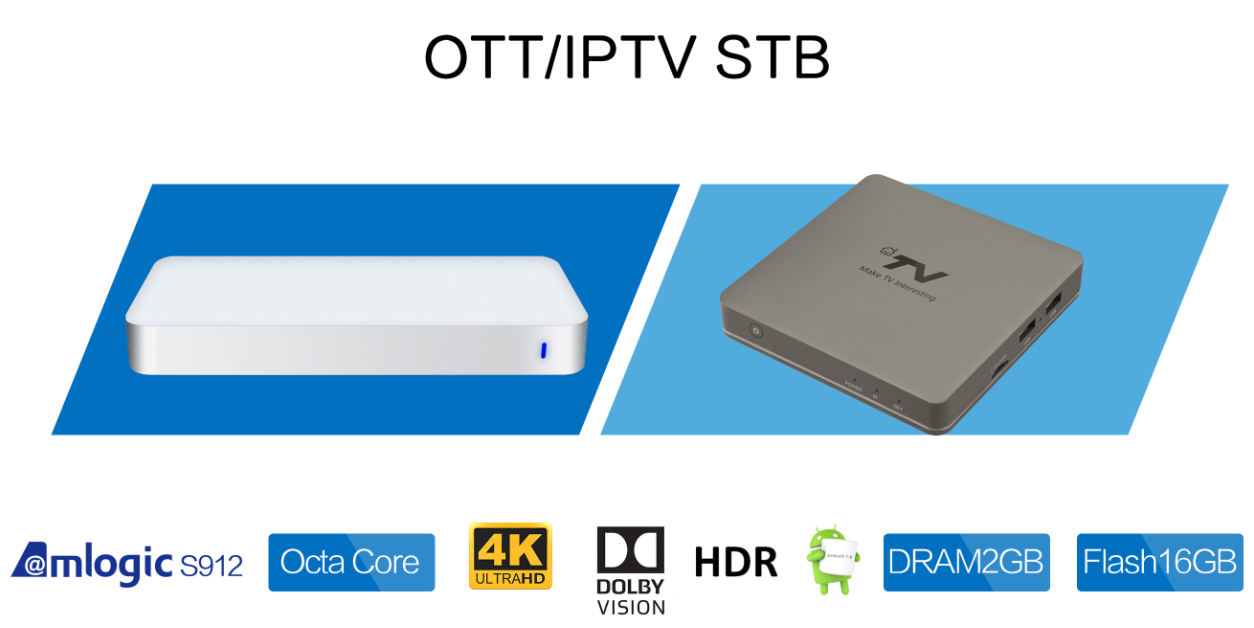 IPTV / OTT Hybrid Set-top boxes>>>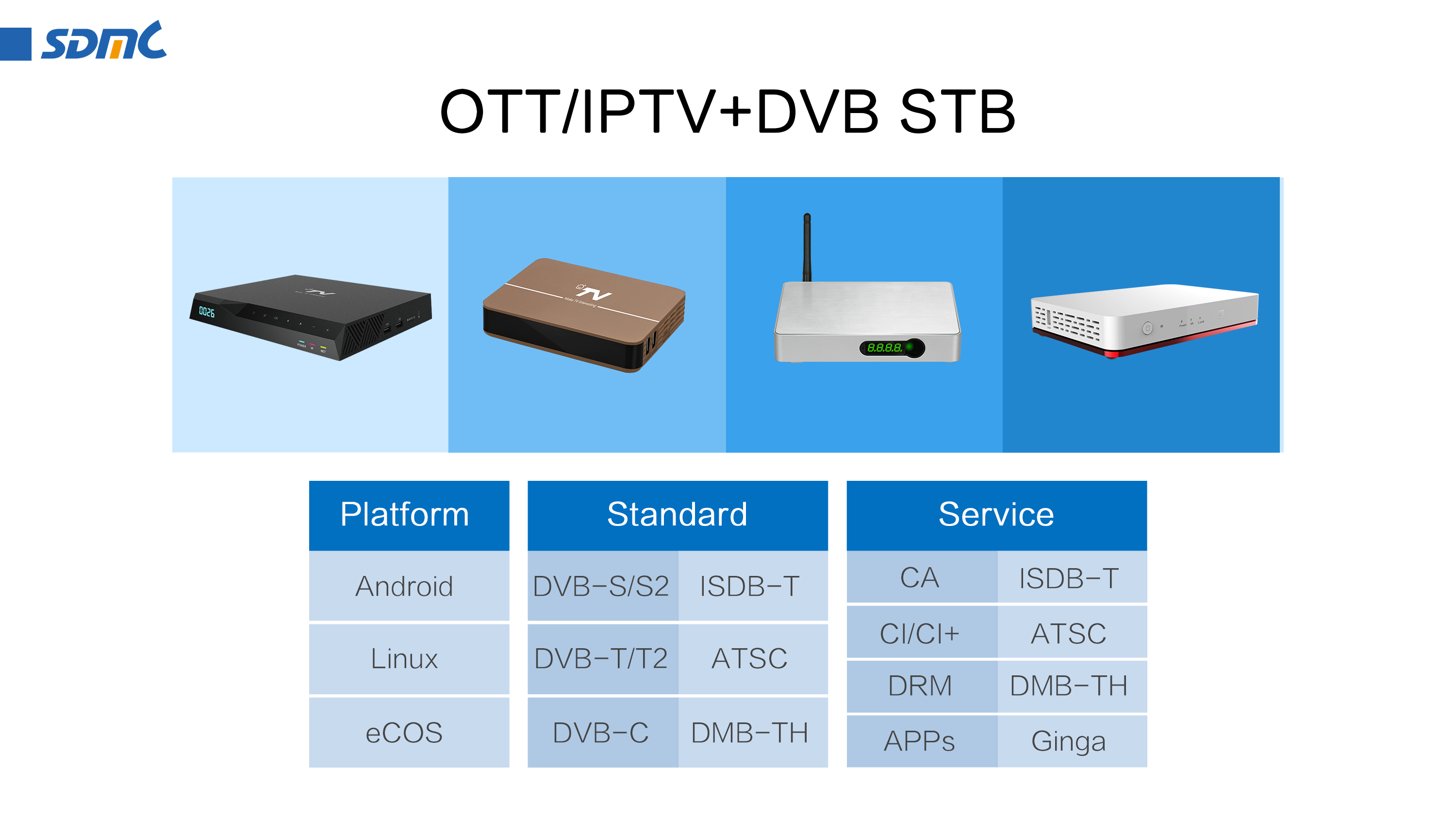 Contact Email: info@sdmctech.com