What is an Android Smart TV Box?
Let me first explain for people who may not know just what an Android Smart TV Box is and what it can do.
As the name would suggest it has an Android operating system developed by Google, much like a lot of modern touch screen mobile phones. You may have noticed these mobile phones have a lot of Apps (Applications) installed like web browsers such as Google, email Facebook etc… well an Android TV Box is similar except an Android TV Box allows you to view it direct on your television. A better name for an Android Smart TV Box would be Android Mini PC because really that's what they are.

The Android TV Box has the Google Play Store installed so you can simply add whatever Apps you require from web browsers to games, all your social media, Office Apps to music players, the list just goes on and on and on..., literally thousands of Apps are available for you to install. These are so much more than a cool gadget, turning your old TV into the ultimate multimedia gateway giving you the smartest TV on earth!
What can android tv box do?
So now you know what an Android Smart TV Box is, what can it really do that makes them so popular you may ask?
As you are aware you can add Apps (Applications) and view them direct on your TV, so it makes the Android Smart TV Box an ideal solution for Streaming Apps like Netflix, Amazon Instant Video, Plex, YouTube, Vevo and many,many more.
One of the most popular Apps at the moment is Kodi® (formerly known as XBMC™) it is an award winning (Legal) Multimedia App for playing videos, music, pictures from your local network or streaming from the Internet to your TV.
Despite what you may have read or what you believe Kodi is 100% legal, it's free to use under their GPL (General Public License).
But with so much on offer – including Movies, TV Shows, Sports and Games – it's understandable to ask: "Is Kodi legal?" The simple answer is, yes.
What Android Smart TV Device do I need?
The Android Smart TV Box market is flooded with literally hundreds of models. Leaving one big question - which one do I go for?
Well, that really depends on what you want to do with your Android Smart TV Box.
For a start they come in all shapes and sizes from a little pen drive (called Sticks) that connects directly into your TV's HDMI port to a Set Top style boxes.
At the end of the day it's down to personal choice and tastes.
In our experience Android Smart TV Boxes are far better than Sticks, they have been built and designed to run Streaming Apps like Kodi, whereas the sticks simply were not designed to run Kodi, they get very, very hot when streaming.
Terms used in descriptions
SOC (System-On-Chip)
CPU (Central processing unit)
GPU (Graphics processing unit)
Flash Memory / Nand / (Storage Space),
Ram (Random-access memory)
Your choices of any of the above is purely based on the size of your budget.
If you are looking to simply browse the web, play a few games and stream using Apps like Kodi then ideally a Quad Core CPU will do the trick just nicely, we have really moved on from Dual Core CPU's unless you're buying a very low budget, older device.
An Octa Core CPU will not show a massive increase in speed, but has benefits when multi-tasking and the later CPU's support HDR-10 and Dolby Vision with HDMI 2.0a more about that later.
As for the GPU, good boxes these days that come with an Amlogic Quad Core CPU come with the Mali450 3D GPU and this does a great job.
The new Octa Core CPU's comes with Mali-T820MP3 3D GPU.
Ram will vary from 1GB - 4GB in some cases. Again deciding on what you want to do with your Android TV is dependent on how much RAM you would require.
In basic terms more RAM the faster the box will operate.
If what you are interested in is watching HD movies either over the network (streaming) or off your own NAS/external USB Hard Drive then the more RAM the better. Get the most RAM your budget will allow, however for most people 2GB will be more than sufficient.
Unless you have two boxes side by side to compare, a 1GB RAM box operates fine, but a 2GB RAM box will just run smoother and faster than a 1GB box giving a much better streaming experience..
For Internet browsing and streaming a Quad core CPU with 2GB of RAM 8GB Flash would be the obvious choice. You may require more storage space than 8GB because you can soon fill it up.
We would recommend as a good all-rounder an Android Smart TV Set Top Box with a Quad Core CPU, 2GB Ram & 16GB storage if you can stretch your budget to this specification. or for a little extra an Octa Core CPU (Specially designed for 4k HDR10 / Dolby Vision) 2GB Ram and 16GB Flash.

4K
Over the last year a 4K UHD (Ultra-high-definition) TV sets have become affordable for most people buying new or upgrading their old TV Sets.
Android TV Box manufactures have also made 4K UHD compatible Set Top Boxes for streaming in 4k Resolution.
Although 4K streaming has not really taken off as yet, we anticipate it is set to become a lot more popular in 2017-18.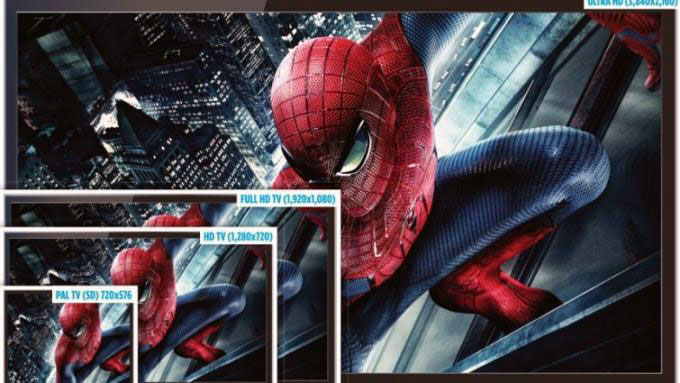 HD = 720p (1280 x 720) - FHD = 1080p (1920x1080) - UHD = 4K (3840 x 2160)

HDR10 vs Dolby Vision
We are not going to go into this with any great detail because this is an Android Smart TV buying Guide, but we must mention a little about 4K TV sets to explain about HDR and Dolby Vision. You may not be aware of the format war between HDR10 (High Dynamic Range) and Dolby Vision with TV Manufacturers. Much like in the 80's between VHS and Betamax no one knows which format will come out on top.
Most TV's will currently be 8 bit, (unless you have updated recently, and that does not mean if you have a 4K TV). What does 8 bit mean? It means the TV is capable of 256 shades of colour, for each of the three primary colours: 256 shades of red, 256 shades of green, and 256 shades of blue. So with our current TV system, it means there's a possible 16.8 million colours (256x256x256=16,777,216). That may seem like a lot, but it's actually not. The human eye can see way more.
HDR10
On August 27th 2015 the Consumer Technology Association announced the HDR10 Media Profile, more commonly known as HDR10, it's a free open standard supported by a wide variety of companies, which includes TV manufacturers such as LG, Samsung, Sharp, Sony, and Vizio as well as Microsoft and Sony Entertainment (which support HDR10 on the PS4). HDR10 currently allows for a colour depth of up to 10-bits, (but its understood that it maybe upgraded to 12-bits at a later stage). This means more shades of colour: 1,024×1,024×1,024= 1,072,341,824. Yep, one billion colours. Potentially.
Dolby Vision
Owned by Dolby Laboratories, Dolby Vision is a competing HDR format that can be optionally supported on Ultra HD Blu-ray discs and streaming devices. Dolby Vision as a technology allows for a colour depth of up to 12-bits. Due to the incensing fee from Dolby Laboratories, Dolby Vision is only likely to be included in more expensive, top-end TV sets. So there is a small gamble as to whether or not Dolby Vision support really takes off.
HDMI versions 1.4, 2.0 & 2.0a
As data, images and particularly video keep increasing the data load they consume the difficulty in transporting them only grows.
After a jump last year to HDMI 2.0, the ever-evolving protocol has already evolved again to HDMI 2.0a for HDR 4K@50/60 (2160p), which is 4 times the clarity of 1080p/60 video resolution.
The latest move 2.0-2.0a is a baby step in comparison to the last jump from HDMI 1.4 to HDMI 2.0.
HDMI 2.0a one designed to accommodate HDR technology. Designed to vastly improve the contrast between light and dark images for a more realistic picture, HDR will be a highly touted feature in this year's new 4K UHD TVs.
The primary reason for the switch to HDMI 2.0 was that 4K Ultra HD televisions require much more bandwidth to realise their full potential. Since 4K Ultra HD is four times the resolution of 1080p, the former HD standard, it required more throughput to handle extra data going back and forth. HDMI 1.4 supported 4K resolutions, yes, but only at 24 or 30 frames per second. That works fine for movies, but isn't useful for gaming and many TV broadcasts, which require 50 or 60 FPS. Also HDMI 1.4 limited 4K Ultra HD content to 8-bit colour. HDMI 2.0 fixed all of that because it could handle up to 18 gigabits per second — plenty enough to allow for 12-bit colour and video up to 60 frames per second.
TV Conclusion
Currently only 10bit TV panels seem to be available from TV Manufacturers, it's unsure as to when 12bit panels will become available and sold to the consumer.
The real benefit of all this is to get us HDR or DV content. The banding and extra shades of colour is great, but that's just the icing. The cake is the much more lifelike images possible with the new HDR/DV 4K TVs'.
With the release of the New Amlogic S912 Octa Core CPU late 2016, Came HDR10 and Dolby Vision compatibility in most Android Smart TV Streaming Boxes making them pretty future proof for what ever format comes out on top.
Buying the correct box to suite your needs
With all of the above hopefully helping you a little in deciding what specification box will suit your requirements, a word of warning…!
Now this is probably the most important part about buying an Android Smart TV Box and often overlooked by most people, so now you know what specification you require be very careful which box you buy, there are so many copies of original Smart TV boxes out there often referred to as clones/copies.
Basically a manufacture will invest lots of time and money into designing and developing their smart TV Box until they get it right, working without problems and glitches with their hardware (the components inside a device on a motherboard CPU etc.) and their software/Firmware (program code that interacts with hardware calculations/instructions etc).
This then attracts the attention of many 'clone manufacturers' who build unauthorised counterfeit copies of their Smart TV boxes. These are made with cheap components and are often untested, they can be a serious fire risk as these companies often cut corners for profit.
These are then offered for sale on the Internet, usually via web-sites of various Chinese resellers, or on e-Bay etc.

We strongly urge you not be tempted to buy cheap clone copy boxes, these are false economy, they often break and don't meet UK safety standards. This is not scare mongering this is a fact! We advise stick to the well know suppliers and well know manufacturers.

source: tvboxcompany.co.uk