Available in Q2 2023, SDMC Wi-Fi 6 Mesh Router will support OpenSync and will be certified for Plume's services, giving operators reliable and secure network connectivity.
Recently at the OpenSync Summit, SDMC has announced its partnership with Plume, the personalized smart services pioneer, to integrate OpenSync, the fastest-growing open-source framework for the home network, into SDMC's Wi-Fi 6 Mesh Router, which enables rapid delivery of enhanced Wi-Fi and intelligent services for connected homes.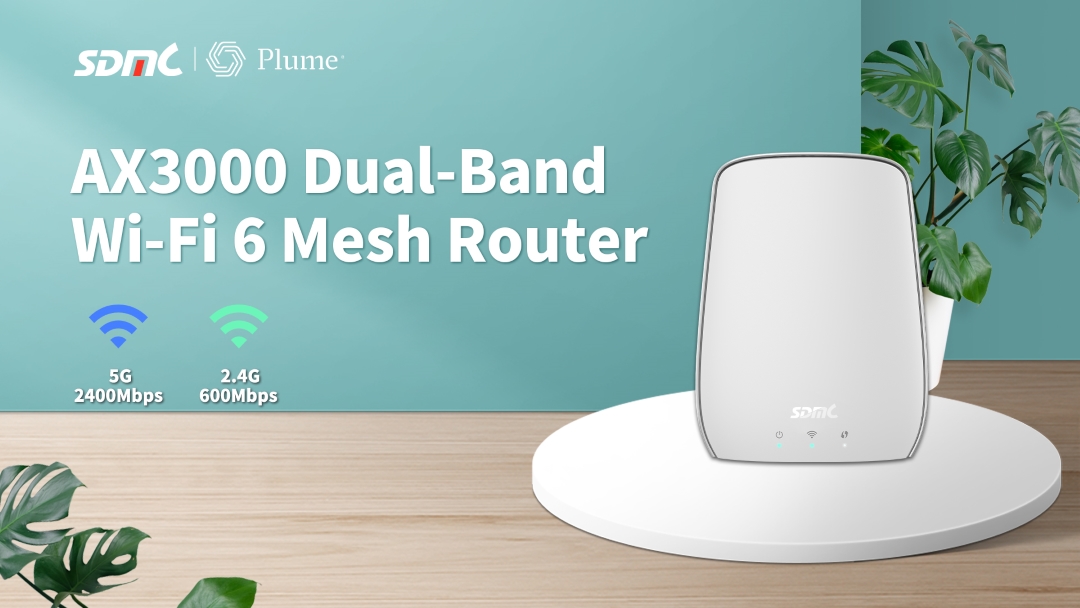 Driven by the rising smart home and remote education businesses, the global Wi-Fi market has reportedly experienced explosive growth and was expected to reach 31.3 billion USD by 2027, with a compound annual growth rate of 10% between 2020 and 2025.
With the surging demand for Wi-Fi connection, however, end-users have struggled with poor Wi-Fi experiences, including inconsistent coverage, lack of smart control and professional support services. Meanwhile, telecommunication operators have also faced significant challenges in improving their average revenue per user (ARPU), market share, and customer satisfaction when deploying home Wi-Fi services.


Now, our partnership with Plume addresses the above pain points and takes user experience to a whole new level by adding OpenSync to our uniquely designed Wi-Fi 6 Mesh Router. OpenSync is an open-source silicon-to-service framework that allows telecommunication operators to manage their Wi-Fi devices from the cloud and execute new services rapidly at scale. With this combination, telecommunication operators can obtain enhanced Wi-Fi products, while benefiting from the OpenSync Wi-Fi cloud management platform to deliver flawless connectivity, complete network control, and advanced security to end-users, which enables them rapidly to adapt to market forces and maintain a competitive advantage.
SDMC values various partnerships that enable us to provide strategic value to our customers. In the past several years, SDMC has worked closely with Google and Netflix in Android TV ecosystems to serve numerous operators across the globe and deliver several millions of OTT devices to market every year. As we move towards the smart home era with higher bandwidth and optimal connectivity, the Wi-Fi ecosystem plays an increasingly important role. Therefore, we take a vital step to empower operators to address changing subscriber needs by providing a future-proofed and highly scalable platform and further deepen our collaboration with OpenSync ecosystem to help operators achieve faster time-to-market and time-to-revenue.