With the development strategy of "content + platform + hardware" and "overseas sales and domestic operation" as the business model. on the one hand, sdmc laid the overseas market early, hardware business research deep. Marketing network and service have been around the world more than and 100 countries and regions, Overseas sales advantages is obvious ; the other hand, the company focused on the layout of value-added operations services, build value-added services as the center of the OTT cloud platform, to build home entertainment system. From 2014 to 2016, sdmc main business income will increase by more than 50% on average every year. The total assets will expand continuously. In June 2016, the company will enter the innovation level and have room to grow.
1, Market advantage:
sdmc expand overseas markets early, have sufficient domestic and international orders
In the international market, SDMC start layout since establishing in 2003, has been accumulated in a solid overseas market basis, with a certain degree of customer acceptance.
International business customers mainly in Southeast Asia, Europe and the Americas and Hong Kong and Taiwan, China, Brazil, Argentina, Chile, Russia, Germany, Poland, Hungary, Finland, Thailand, Indonesia, Cambodia and other countries to build a more comprehensive agent and Customer system, and in Thailand, Russia, Mexico, leading market share.
2. Technical advantages
: 5 major product line, system and product synchronization forward
In terms of OTT terminals, sdmc has developed and commercialized a series of OTT set-top box terminals. These products are modularized and integrated, and have been certified by Playready / Verimatrix / Widevine DRM. , novel supertv /compunicate / sanzhou xunci and other CA, and to achieve intelligent set-top box remote management, upgrades and information dissemination and other functions, has the advantage in the field of intelligent set-top box.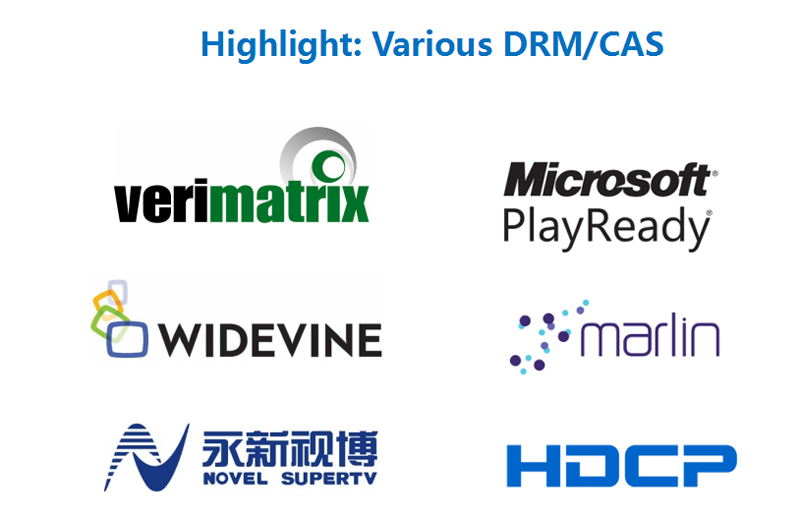 The VAS value-added operations and service system is one of the characteristics of products. The system uses advanced technology framework, the latest computing and storage technology, management and control of the OTT box to support data collection and push, user behavior analysis and rating survey, allowing operators to keep abreast of the state of the box, but it also supports The value-added services.In the build system, SDMC fully relying on the existing cable and terrestrial digital television resources, greatly reducing the operator's construction and maintenance costs.
The Stream push system follows the digital TV DVB standard, which realizes the packet of the movie, the data and so on, the document grouping, the time-sharing transmission, has solved some advertisement terminal unable to update the question in real time. The software system is widely used in information dissemination of intelligent public transportation system, cable, ground floor advertising machine, set-top box EPG advertising. At present, has been successfully applied to the Zhenjiang Intelligent Public Transport Information System, Hebei Baoding cable advertising system, the next step will be with the Hunan Radio and Television, Liaoning Radio and television and other implementation of technical solutions, the system will quickly start using in other provinces of China.
In a large number of investment in research and development, SDMC strengthens their own technology at the same time, plans to Cooperate with school-enterprise . School-enterprise cooperation not only makes the research results of colleges and universities be verified in practice, but also promote enterprises to improve technology configuration and self-development capacity. Through cooperation with the school and enterprise, SDMC has made fruitful scientific research.
3, Copyright Protection Advantages
:
DVB + OTT
product integration DRM encryption technology, full service for operators
The set-top box as a network terminal equipment connected to the TV, is generally composed of operating equipment and DRM client. DRM digital rights management security for set-top boxes includes three aspects: client security, server-side security and communication / authentication security. As the user's real-time requirements are relatively high, which requires the system's encryption and decryption faster. In view of the above reasons, the leader in digital video industry, SDMC Technology, has completed the perfect integration of DRM encryption technology in its DVB + OTT set-top box solution, and OTT series solutions are equipped with Verimatrix / Playready / Widevine advanced security technology. Operators and large customers can choose according to their needs.